Post # 1
woo hoo! so, i never posted about it, but the first time i went dress shopping was terrible. I went with my mom and she was the one who helped me into them. i felt fat and she didn't have much to say the whole time. definitely a bummer! i'm down visiting my aunts and uncles for thanksgiving and since we don't live in the same state, thought it would be a good chance for them to come with and be part of the planning. i made an appointment and went with my aunt, great aunt (the family matriarch – she's 92!), my mom and cousin who is my MoH. unfortunately the salon didn't allow pictures (grumble grumble) but it went well. the consultant helped me into the dresses and i got to come out and do a reveal to oohs and aahs! AND she told me "you're the perfect size for these dresses!" talk about a confidence boost! i was so worried that i was going to look fat but instead i had to have the clips on nearly every dress to suck it in, and i felt beautiful for a change.
I tried on a lot of WToo dresses including:
(which seems like kind of a little sister too the Justin Alexander 8483)
but, then I saw a tea-length Enzoani hanging… gulp. MUST. TRY.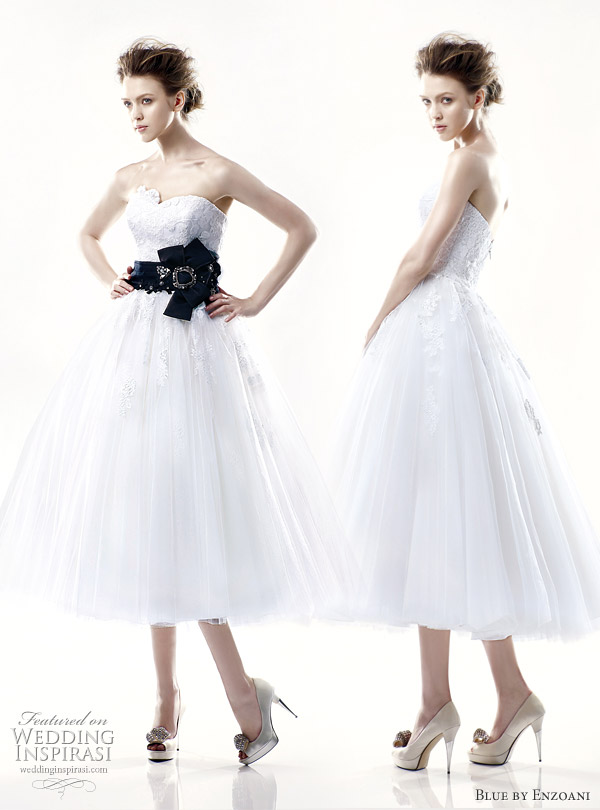 the photos do NOT do this dress justice. What is it with white backgrounds??? Them and Rosa Clara, I swear… anyway, this dress was phenomenal. I put it on and it was pure 1950s joy. I came out and the family of another bride all turned and had dropped jaws. It was ridiculous. the tulle came out in a poofball of crazy awesomeness, and I looked tiny and cute! too bad it's +$1300, it would make a great reception dress… hell, if I find a cheap ceremony dress, it still might be (but you'd better believe I'm pinning that stray lace down – my OC "everything has to be even" D will have it no other way!) 😀 and then… after convincing myself that I was done with obsessing over the Justin Alexander dress (you know the one – tea length, adorable, etc), there it was sitting on the mannequin in the full length version. damn. well, guess i had to try it on!
gorgeous, perfection, etc etc. my body shape is similar to the model's, so it fit very similarly – straight with a (seemingly) tiny waist and then POOF!!!!!!! SKIRT! it felt so bridal and great, i didn't like the way it looks online in the full length version (thought the bottom looked plain), but wearing it? it looked wonderful as is, i didn't even want the tea-length anymore. heavy as hell but it would definitely be worth it.
no decisions on a ceremony dress, because i still really want a fit and flare or mermaid, but i'm happy to finally have a GOOD shopping experience and have tried on some real contenders!