Post # 1
I definitely like to have fun, but I'm not the type to go out to the clubs or bars every other weekend. I am much more comfortable in a less crowded atmosphere with mostly people I know. Not that I'm anti-social either, it's just that louded, crowded places with tons of people just naturally raise my anxiety level.
I know it's not the bride's business to plan her own bachelorette party, but my Maid/Matron of Honor and bridesmaid know me well and want to make sure they plan something that they know that I will enjoy most. I only have one idea so far, and I'm not so sure I'm crazy about it.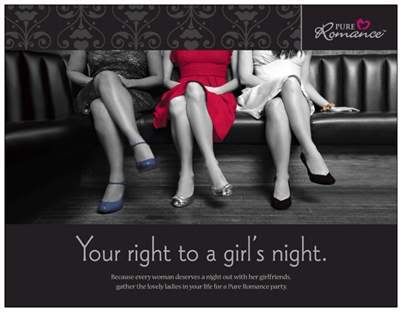 (image borrowed from here)
I've been to a couple Pure Romance parties already, and they're always a riot! They're so fun and both consultants that have hosted parties I've been to created a very safe environment where all the girls felt comfortable asking questions and just relaxing and having a great time! I think it would also be good because it would be a smaller, at-home party, but still have that sassy bachelorette feel! I feel like this would be a fun option, but the thing that's holding me back a bit is wondering how awkward it would be to have my mom there also. I know it's easiest for me to be the judge of that since I know our relationship best, but I feel like it's right on the edge of where it could be totally fine and fun, or it could just be weird.
What do you think? What are some fun ideas you have for this kind of low-key but fun bachelorette party?