Post # 1
Hi Bees! My Fiance and I have set an elopement date for April 1, 2015 (our eight-year anniversary). Recently he asked me about wedding gifts for each other, and I told him I'd really like to have a second band to wear with my e-ring and band. Originally, I thought a second band that matched my current one would be perfect – I could wear them on either side of my e-ring, or stack them together and wear my e-ring on top. Here is my current band – it's a 1.5mm shared prong half-eternity style:
And a picture of it with my e-ring:
But I have also completely fallen in love with this ring on Etsy from Rosados Box – the petite Bubble & Breathe – this is 1.8mm.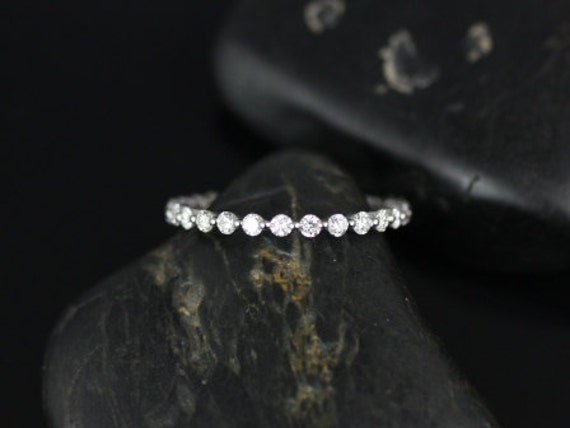 And of course, now I can't make up my mind! Good thing I've got plenty of time, but…
The Etsy ring is about $500 less than my current band. But, if I went with a duplicate of my current band, I would be assured that the white gold quality is the same, the diamonds match, et cetera.
Would love to hear your input! Sounds like there are a good number of Bees out there who have dealt with Rosados Box and have good reviews – I really do love this ring! Perhaps if not to wear with my e-ring, as a RHR down the road… perhaps.
Thanks Bees!