Post # 1
We're starting to come up with our guest book idea, and I was at the mall today and think I've come up with what I want to do. I love the thumb print tree, and that was what we were going to go with, except that everyone I've seen in person looks odd to me. I think it's the spacing out of the prints (defs get someone to watch to make sure everyone isn't putting their thumb print on the same side of the tree!) I know I want something we can display in our house, and I was trying to come up with something else.
As I walked by Halmart, I saw this
It's a metal tree, designed to make a family tree. I have plans to give one to my mom this year for Mother's Day, and the idea hit me that it would be a great way to do a guest book! You buy (or make since these are crazy expensive!) the hanging frames like this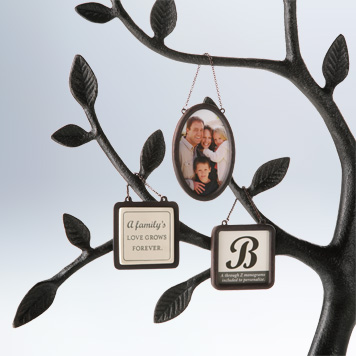 I think what we're gonna do is make the little frames, take out the glass/plastic covering them, and everyone can chose a frame they want, and write their name or a little note or drawing or whatever. We'll put some pictures as well from the wedding and hang them along with the notes. We might not use this exact thing, because right now we're expecting almost 100 people and that many frames won't fit, but this is the basic idea we've got now!
Just thought I'd share since no one else around me cares haha. Anyone else have any alternative guest book ideas?