Post # 1
…..MY LADIES! lol
I am totally about to brag a little! So I went shopping for dresses for my ladies Sunday at the Alfred Angelo store in Jacksonville. Now, I did do a TON of research into dresses. I ended up coming up with a list of must haves for their dress :
1. I wanted something that would look good with my dress
2. Came in a deep red
3. Knee length
4. Something my ladies would be comfortable in
5. Something they would BOTH look good in
6. Needed to be a little on the unique side
They had two requests when it came to the dress:
1. It needed some type of strap
2. It didn't make them look like a "puerto rican prom queen"
Later on I decided that an empire waist style dress without any form of "poof" / flare would work best to accommodate for the two body types that I had to work with. So I did enough research to make ALL of my old science teachers proud and found this: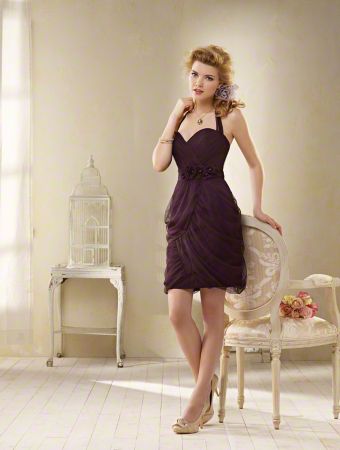 I stewed on it for a few months before I decided that this was the dress that I would like my ladies to wear. I showed them both the dress and the both liked it so all that was left to do was have them try it on.
We arrived about 15 minutes early for our 3 o'clock appointment and we were out by 3:05. They actually REALLY liked the dress and the only complaint was that they couldn't quite twerk properly in it. And the dress shopping took less than 10 minutes (and that is including taking pictures AND them getting measured). The bulk of our time was mainly taken up by going through the process of buying the dresses and the initial wait for the consultant to pull the dresses.
At the end of the appointment even the consultant commented on how this was the fastest and easiest appointment she's ever had.
I have to admit I am VERY lucky to have some extremely easy going and not so picky bridesmaids.