Post # 1
So I FINALLY ordered our new bedding, you know, 7 months after the wedding. The one we wanted was out of stock for a while, then I found it somewhere else and Darling Husband kept wanting to wait to order it (?) and when I went to get it last week it was out of stock there too. Finally it came back into stock from the original source (overstock.com woo) today and I bought it immediately.
Here is our new duvet and shams: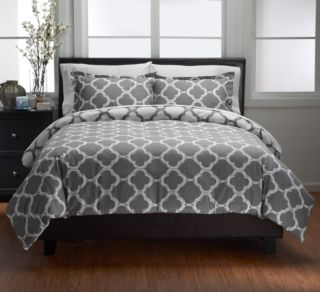 and we have PALE yellow sheets. I really like the pale yellow and light gray look, similar to this:
but we cannot have anything floral or overly feminine for Darling Husband. I also really like the mixed prints look.
Does anyone have any suggetions?
If not, what type of decorative pillows do you have? I'd love to see ideas!