Post # 1
I have been thinking over wedding looks for a while now and i am generally in love with J. Crew's selection of dresses. Specifically the chiffon styles, like this (i LOVE this color and am 99.9% sure i want this to be my wedding color):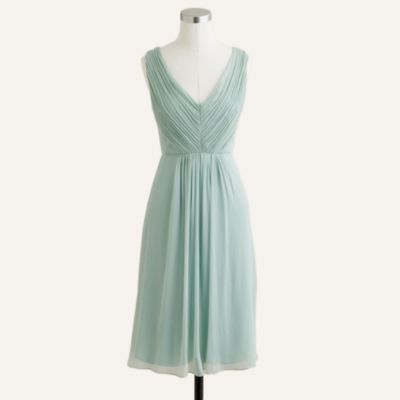 i also love that they have about 10 different styles in this color/fabric to choose from of all different silhouettes.
BUT they are about $250 each. 2 of the ladies I am asking to be my BMs are married and I was in their weddings, and they both went with Davids Bridal. Definitley a more affordable choice (i think my dresses were both like $150?)… but i also feel like DB dresses, unlike J Crew, really are not wearble again.
DB also doesnt have this color or anything remotely like it. all their lighter blues are too aqua-ish.
Is it too much to ask someone to buy a $250 dress to be in my wedding? How would you feel about that price point as a BM?
A few things:
– all my BMs are at least 28 years old and working full-time in careers – a few are teachers, two retail managers, one an executive assistant – not millionaires but we all get by
– i have seen brides on the bee who pay for their BMs dresses and while i think that is awesome, there is no way that is in the budget for me with 7 BMs, even if the dresses were $100.