Post # 1
Hi Ladies,
You've been so wonderful in helping me locate the *pefect* earrings – I figured I'd ask for more accessory scouring help.
I'm looking for a sash that only has the design/beaded part in the very center and doesn't wrap around the whole body. Kind of like a belly brooch at the belly button, but nothing around the waist, so the rest of the sash/belt would have to be completely sheer.
I understand I can get it in white/ivory, but I'm afraid it will be impossible to match the fabric tones and I'm really looking for an "illusion" sort of effect. I also love the little buttons on the back of my dress and don't want them to get obscured by the sash.
I went on etsy and found lots of lovely belts, but none are sheer. I'd like something dainty and on a thinner belt/sash and probably not too blingy. So more pearls than rhinestones/crystals.
Something like this perhaps, but see-through please, and ideally no more than $100.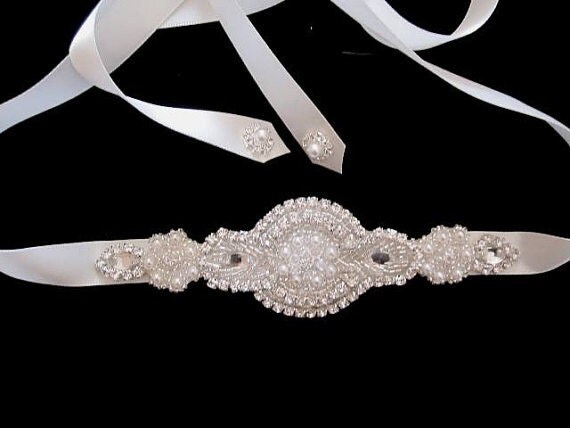 The overall effect would be something like this, but I realize on this dress it's a brooch sewn in and I don't want to sew anything into the dress – I'd rather it were removeable.
Thank you so much in advance!