Post # 1
Hello! I'm very new here, so I hope I'm doing this right!
A few weeks ago, my boyfriend and I talked about marriage, and though we are not yet engaged, he said he is planning to propose sometime this year. He knows I am extremely picky and told me I could pick out my own rings – both the wedding ring and engagement ring. Now that I've had a few weeks to research (using this very forum a lot of the time), I'm not sure what exactly I should do.
My very first thought, even before we had "the talk", was morganite – I love the peachy pink colour, and I fell in love with the design of cushion cut halo morganite rings in white gold. The more I read about morganite, the more I worried… I'm clumsy, so would it survive a year on my finger? Will the colour fade? Will I get tired of the pink? Will it match my skintone?
Then there's the metal. 14k or 18k white gold? Won't 18k scratch more easily? What about Palladium or platinum? Too expensive? My ring size is pretty big so I'm probably going to pay more for the setting than average.
After looking at rings on Etsy and talking to a local jeweler, I decided to look for loose stones online, but had little success. I then turned to moissanite.
Pink moissanite is WAY too bright for me, I don't like the Barbie pink, and the only "barely pink" moissanite I've been able to find was by Joe Schubach, who only seems to carry a single ring design with that stone, and I don't like it at all. I also heard pink moissanite can be damaged and the pink can chip off? (not sure about this at all)
But if I go for FB or Amora moissanite, the halo seems over the top, white on white on white, especially in a white gold setting.
Then there's the issue of taste: I love love love filigree rings, delicate and slender, and the only loose stone that seemed to look right on my finger was 6.5×6.5mm. The jeweler I consulted told me I'd need a much chunkier ring if I wanted a stone that size with a halo and half-eternity bands.
I've looked into Schubach's (and Beth's impeccable taste in moissanites), and recently learned of David Klass for custom orders, but I live in Belgium and I'll probably have to deal with a 21% customs tax on jewelry, and returns might be very difficult should something go wrong… Our budget is about $2000 for everything including shipping and taxes, so this might be an issue if I buy abroad. I have a family member who's worked in a store in the Antwerp diamond district for over 30 years, and whose specialty is metal settings, but I feel awkward asking for a custom design if I'm not even buying the main stone from them.
Another thing I just discovered today is that there's a difference in the kind of cut you can get – I'm totally unaware of the different kinds, all I know is that there's an Old European Cut which is quite nice but can look iffy if not done right, and "AV" cut (???) which looks a lot sharper and modern to me. I do prefer the softer lines on OEC but I really don't know the difference.
Please please please give me advice! I'll be eternally grateful to all of you! I'm sorry for the gigantic post but this is very important to me and you guys seem to know your stuff better than any professional I've spoken to in my city! I'm not sure who to trust.
Here are some images of rings I like, but aren't quite what I'm looking for, to give you an idea:
This one is from the MoissaniteCo website, and it's a set, which is nice – but it's so very chunky…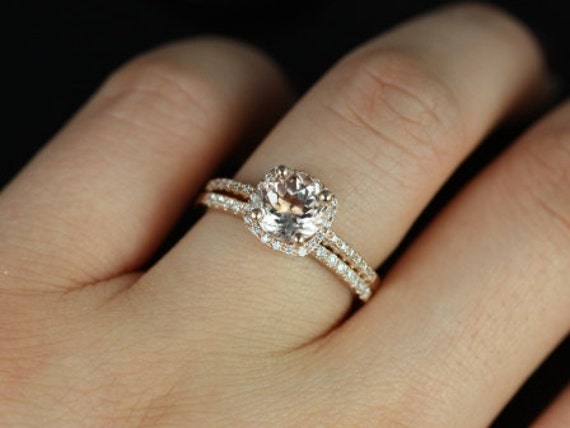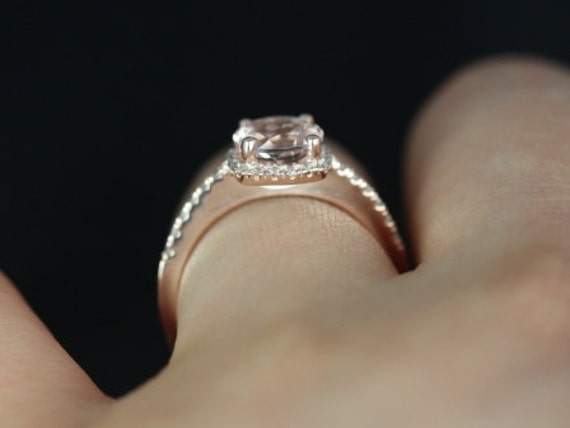 Morganite and rose gold from RosadoxBox on etsy, I love the view from the top, but the side-view… it just looks so chunky and flat. I'm also not considering rose gold.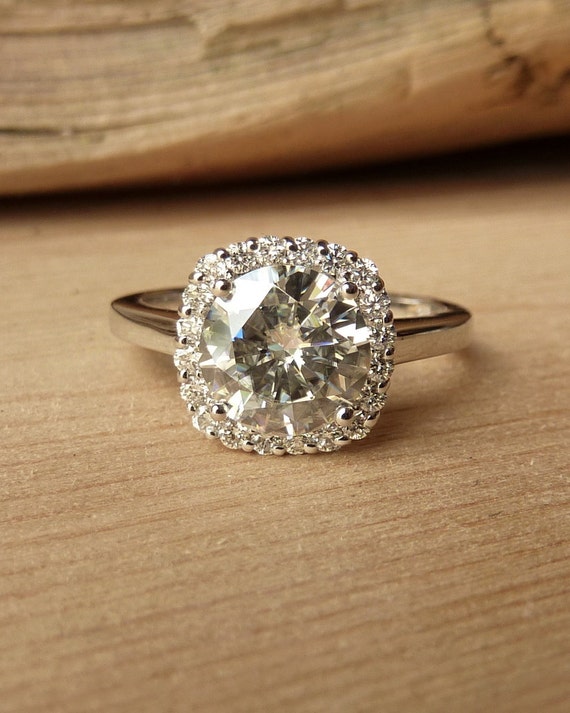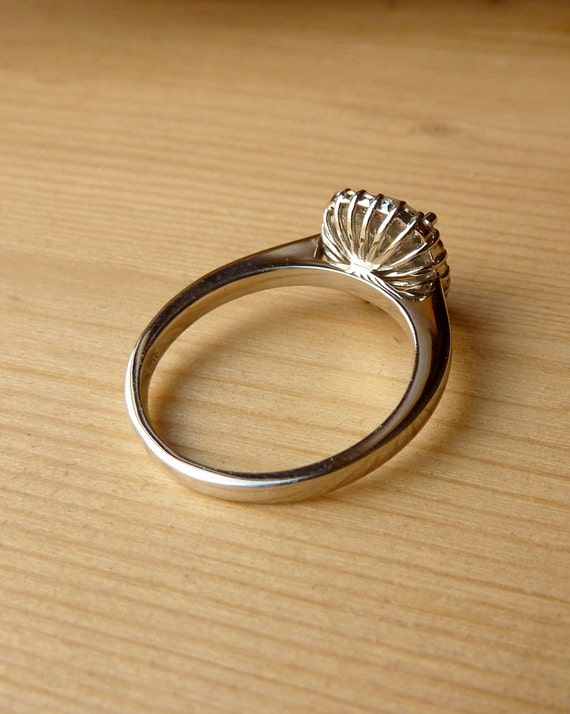 I love this one by katezabone on etsy for the round FB moissanite in a "cushion" shaped halo, and the metal accents between the halo's stones, but the band is very plain, and it's over $2000 for the engagement ring alone! Imagine having to add diamonds to the band AND ordering the wedding band (with diamonds) as well! I'm not set on having diamonds on the bands for both, I can go for plain bands, but then I'd at least like some engraving, something to make it look not so plain. I realise this is an 8mm stone, I'd prefer something closer to 6.5 or 7 which should bring the price down quite a bit (I hope), but this is by far my favourite design out of the hundreds of rings i've seen so far.
This is what my significant other's ring will look like, though he hasn't decided on matte or polished just yet:
Thank you all for even reading this far, and if you can help me, I'll be eternally grateful!