Post # 1
So I went to David's bridal with my mom and my Maid/Matron of Honor. I tried on a dress I REALLY liked from back in November when I first went there…but the funny thing was – back then it made me look thinner…yet I also weighed 26 more pounds than I do now…fast forward to today – 26 pounds GONE FOREVER – and the dress made me look huge! lol. so i tried on some others.
Here is a pic of the GORGEOUS dress on the front of David's Bridal's site and magazines…like their #1 dress lately…loved it – but then tried on a few more and came to one off a mannequin that isn't on their site yet. It IS one of the designer dresses "Olig Cassini" and EVERYONE fell in love with it – especially me. 🙂 so we bought it!!!!! it WAS a little more than we wanted to spend – but even my mom (who was buying the dress) said it was too perfect not to.
The first dress is the one I kept wanting going in there today (not the one that made me look fat from the first fitting in november, but the one on the main page of DB's website.
The second one is MY DRESS!!!!!!! we bought it and it should be here in October. I'm SO happy! plus – it's got POCKETS!!! which I'm totally in love with! hehe. Dress # 1 did not get but loved…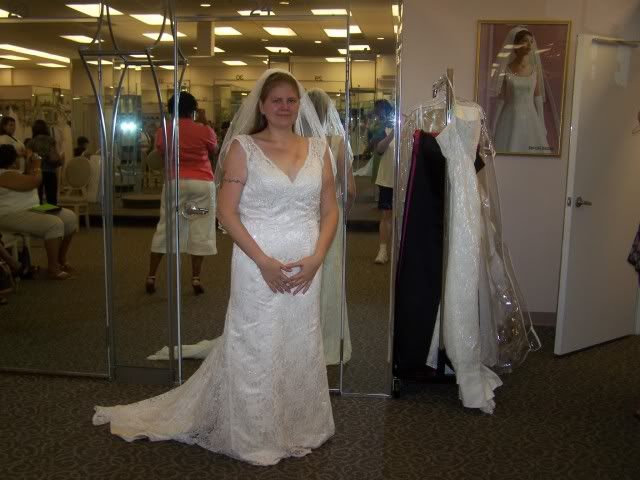 Dress #2 – MY DRESS!!!!!