Post # 1
So far the biggest stressful piece of wedding planning has been picking a bridesmaid dress. I have a HUGE wedding party (10 girls) so it's really hard to try to find something that works with their figures and that everyone likes.
SO I finally asked myself, what do you like?? And once figuring that out, I chose the Dessy 2749 bridesmaid dress. I am just in love with it. I keep randomly looking at it throughout the day. My color is platinum. I'm SO excited! The dress is below: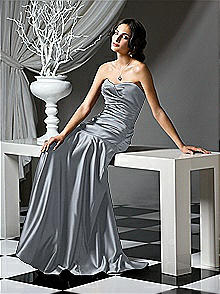 Below is the back, but I wasn't able to copy a larger image in the platinum color, but obviously it will be in Platinum.
NOW – I was able to find this dress at a local bridal store, but it costs $240. I found it on http://www.bridesmaids.com (a division of Here Comes the Bridesmaid) for $165. That seems like a great deal. Has anyone ordered their bridesmaid dresses online or more preferably from http://www.bridesmaids.com? How did it turn out?