Post # 1
I know we've had a lot of posts about bridesmaids gifts but 've been getting mine together (yes, I know I have 9 months left) and I'm excited to share!
Anyone else feel like you just can't buy enough to thank them?
I started back in June getting gifts for my girls, I've gone way over by budget but I don't care because they've done so much for me they deserve so much more!
I bought their bridesmaids dresses (they were $15 on clearance at target)
I got them each:
-A silk hand-painted scarf that matches their personality
-A necklace (not to wear at wedding)
-A wine glass to be used while we get ready at my house the day of the wedding
-Name charms to go on the glass from etsy (http://www.etsy.com/listing/107111740/personalized-wine-glass-charms-wedding?ref=pr_shop)
-A pair of slippers to wear while getting ready at my house (each of them are different to match their personalty)
-Matching umbrellas in case it rains
-I made a survival kit that is full of my favorite things, in a makeup bag and attached this print-out to each of them: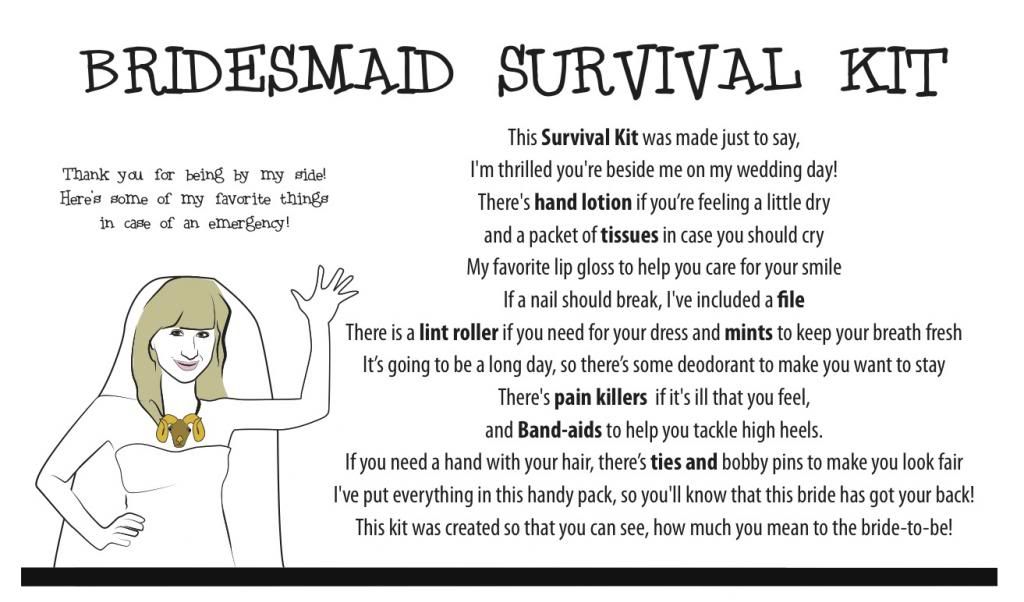 -I put together a spa kit with lotion & bubble bath from b&bw and a cupcake bath fizzle, eye masks, scrub ect. to help recover for the day after.
and then I'm putting their gifts in a large recycle bag from Marshalls (99c).
Am I done? Would you love and appreciate this gift?
Show your bridesmaids gifts!