Post # 1
I will admit, I'm super guilty of doing this, especially with clothing purchases. It started out as "I can wear this for my engagement picture!" and now it's "I need a dress for my (bridal shower)(bachelorette party)(rehearsal dinner)" As much as I love this excuse, I'm attempting to stop using it.
So, the dress (dresses?) currently in question is a gorgeous Tracy Reese confection from Anthro. It's beautiful, and honestly, if I were having a more casual wedding, this would have been my dream dress. I want it so bad… what I DON'T want is the $300 price tag!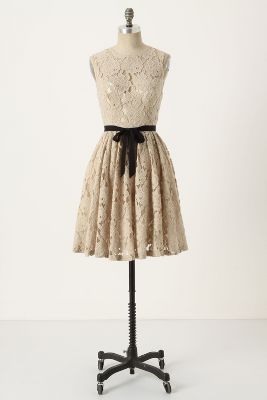 It is taking everything in me not to just buy it and worry about the consequences later.
Now, how can matters get worse, you ask? Oh, lets try finding the SAME dress in blue on another website, shall we? Oh, it exists in blue? Why, yes it does! Do I like blue? Yes, yes I do! Is blue one of my accent wedding colors? Why, yes it is, in fact!
So, clearly you can see my dilemma. I have 2 beautiful, wonderful dresses, both of which I could argue I "need" for a wedding event, and both of which are a bit too expensive to actually purchase.
It hurts my heart, bees. It really does. Knowing that I want to own a dress such as this, and that I really should pass it up for something more important.
Has anybody else tried to justify an expensive want as a wedding need?