Post # 1
Hey there bees…
I'm a little confused about whether or not I should get CZ over Moissy ever since a thread I read several weeks ago about CZ turning cloudy after a few months. I looked up comparisons online of CZ vs Moissy vs Diamond and so far I've come up with Moissy's looking nicer in my opinion. But do Moissy's cloud over time too like CZs?? And… Due to outside pressure…. I am still undecided. Even though I havent asked my mom yet I dont want her to think I'm being cheap over my engagement ring by choosing a non-diamond or diamond simulant stone. I'd personally rather have a CZ or moissy because it is not only cheaper, but still very beautiful and it sparkles greatly (moissy in particular, which I love)… I also like the idea that it's more environmentally friendly than having a diamond, and I don't have to compromise size for quality.
I already asked a friend at work what she thinks would look nicer for an engagement ring. I showed her Moissy vs CZ and she immediately got snobby with me… She flashed her $16,000 1.50ct 18k white gold diamond engagement ring to me and said basically that getting anything less than diamonds is cheap yet "not everything I have, you can have". She told me that apparently her and her husband have already talked about how I've been looking at engagement rings and how her husband said I was probably too poor/not as 'high class' as them to get a diamond, and I'm probably not worth it anyway. I thought her comment was very hurtful and I was upset about it but I changed the subject.
However, I still find myself thinking of it. I would be very happy with cz or Moissy, but my coworker made me feel really bad for just wanting a simulant and not the real thing and then flashing her diamond like it somehow makes her better than me. She constantly talks about how no one else in our building has something as beautiful or high quality or expensive as her ring, and it drives me crazy. I mean, my mom was lucky enough to get a $15,000 solitaire ring when she got engaged and it has a higher quality + bigger stone than my coworker's… Yet my mom doesn't run around bragging to everyone about it and putting people down for having smaller rings. What should I do bees? I feel really hurt about this person's harsh comments… Should I forget cz or moissy altogether and opt for a blindingly more expensive diamond? Or should I just opt for either a moissy or CZ as originally planned? Or..! Should I get Cz for everything but the centre stone and have the centre stone be moissy??? HELP!!! 🙁 I'm lost….
Also, a pic of the ring I want/am getting: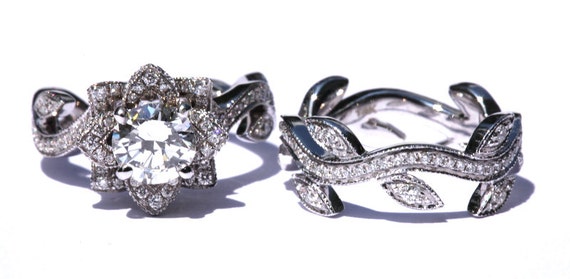 Ps: It is worth adding that I asked the jeweler who makes this ring if Moissy was better than CZ and she said it doesn't matter because they are both diamond simulants. When I originally asked if the ring could be made with CZ and 14k white gold the cost was going to be $1500. However, with moissanite the jeweler said the cost would go up to $3250 plus the cost of moissanite (center stone)…. Ugh I'm now even more confused. I don't want to put financial strain on my SO or I, but I love Moissy stones and I am worried about CZ clouding up (Jeweler clarified they used the highest quality CZ stones and she would recommend it over Moissy)… AGH HELP!!!