Post # 1
After going to 12 + bridal shops and just not finding what I wanted (champagne tastes on a beer budget, anyoneI was starting to have mini freak outs because I didn't have a wedding dress. This might be entirely self imposed, but I felt so much pressure to have the perfect dress because so much of the wedding seems to depend on that; ugly dress and it all falls apart!
I found a fair number of dresses that looked fine on me, but nothing was really that compelling or noteworthy. I'd try it on, it looked fine, and I'd move on. Honestly, they were all looking the same and I was ready to buy a bolt of white velvet and swathe myself in it in lieu of having to continue to search for a wedding dress. My poor mom, a real trooper who had been coming with me to every shop and on every adventure, was also feeling very . . . tired of this whole process.
I had fallen in love with all things pronovias but I just couldn't stomach the price tags, and although I had found some passable sample gowns that I liked, the cost of alterations would escalate the price and get rid of any savings that were had by buying the sample gown. i was getting really frustrated and concerned; whenever I told salesladies that my wedding was six months out, they would always narrow their eyes and tell me that if i wanted to order a gown, i would have to do it NOW. um, anxious much?
I started scouring preownedweddingdresses.com and oncewed.com for a dress, even if it had been worn before. I was a little weary of going this route if the seller wasn't in my area though because I was scared of buying a dress without having tried it on first, but i kept hopeful and searched anyways. besides, i had just gotten into used clothing and it didn't feel that taboo anymore. (3 dollar joe's jeans!!!!)
On a whim, I also started combing through craigslist postings for my area. I loved how craigslist is CONSTANTLY updated with new listings, and I eagerly checked every few hours or so for new listings.
Lo and behold someone in my neighborhood posted a listing for a pronovias ebano (list price ~$2200) that had been altered down from a sample size into a bridal size 6! (helloooooo my size!) From the pics that I could find online, I wasn't exactly digging the dress because it seemed far from what I had been shopping for (in my head I wanted something strapless, lacy, no ruching, flowiness galore), but I figured that at $450, dry cleaned, my size, and pronovias, it was worth a shot.
i met her at a public place, tried it on in the bathroom (it was a perfect fit, can you believe?) and absolutely perfect. it was clean, it was just my size, and i could honestly get married tomorrow in that gown, no problem. I paid her on the spot and the rest is history!
I am SO happy with the dress and am so happy and relieved that I have it safely hanging in my parents' house. I read once that once you buy your wedding dress, like getting engaged, stop looking! I am so confident in my choice of dress that I have to admit that I still browse sites just to check out what's out there. (I especially LOVE to see what others have chosen and am so happy when someone has found **the dress**!)
Sorry for the long post, but I just want to encourage all of you out there who are searching for your wedding dress that it will come together, and that you might just find it where you least expect it! i have seen some really awesome deals on craigslist, and even though you might be a little squeamish buying a "used" dress, it might be just the ticket to getting the dress of your dreams that won't pad your credit card bill more than you wanted it to. so honestly, check it out. really!
oh, and here's a pic!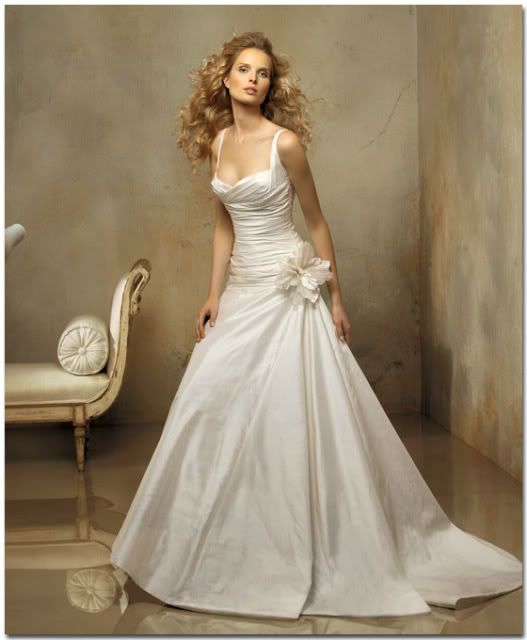 ?