Post # 1
Hi Bees!
I wrote a few days ago I wanted to repropose to Fiance on December 24th, which was the day he proposed last year. I wanted to do it with a pair of cufflinks, I was thinking Batman cufflinks since he is FI's favorite superhero and actually reminds me of Fiance… I even had a little batman speech in my head.
Earlier today, though, grandma overheard me talking about this with mom, and told me she had two pairs of cufflinks that belonged to grandpa (he died 3 years ago). So here they are:
Silver-Blue Sparkly Ones:
(They don't quite look blue in the pics but they are a deep blue color, trust me. I might have to change the box though, because my ex's name is Dante lol.)
My e-ring is silver and one of my wedding colors is Navy blue, so that's a pro for this pair. They are also free!
Golden Ones:
The pro on this one is that our "relationship nickname is GOLD" since the symbol for gold in the periodic table is Au, and those are our initials. Yes, I am a chemist hehe. These are also free.
Batman Ones:
They would look something like this: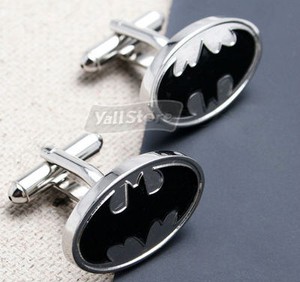 The pros would be that they are super cute! And all the things I said above about the speech and stuff. They are only 5 dollars but the shipping would be tricky since I have to ship them to a friend in the US and he has to ship them here.
Anyways bees! What do you think? Please vote and comment! Thank you so much :)))