Post # 1
My FH and I are looking into a new e-ring for me, due to the glitches in my first ring 🙁 However, now that we're starting over, I'm deciding to go with a different style. I'm struggling to pick one out, wanting to know the positives and negatives of each from someone who has lived wiht a similar style. I know that the center stone is going to be either 1.5 or 2 carat amora moissanite (not quite sure which size yet. If you have an opinion, share!) so I'm mainly trying to pick the side stones to either be channel set or prong set.
Option 1: 2.5 mm channel set diamonds
Option 2: 2.5mm prong set diamonds
Option 3: 2.2mm prong set diamonds. Cartier Replica
1895 Cartier-style Reproduction Ring
Cartier-style 1895 reproduction ring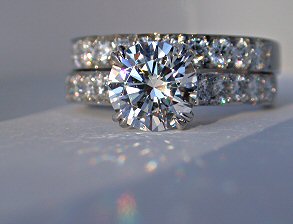 Help me pick!