Post # 1
Wedding: November 2012 - Oak Tree Manor
Girls, I need some decorating advice – we are replacing our yucky old area rug in our living room, but Darling Husband and I are having trouble deciding on a rug. Sadly, all of the ones we're looking at are online (mostly Overstock.com – cheap!) so we can't see them in person…So we'd rather not order two and then pick one and return the other. Here's photos of our living room (sorry, they're terrible – I suck at photography)!:
You can't tell from the photos because it's so dark, but the walls are a light beige color. We got rid of the brown curtains in the first photo, and we replaced them with the off-white curtains in the 2nd photo. You can see our current hideous rug…Most of our furniture is espresso colored, and we really don't have too much color in our living room, so we could spring for a colorful rug or choose a neutral rug and decorate with colorful pillows and accents. What do ya'll think?
Rug #1: Handmade Morroccan trellis wool rug. Comes in khaki, navy, and gray…We could probably order any of those 3 colors.
Rug #2: Handmade Navy Cambridge Moroccan Wool Rug
Rug #3: Cambridge Moroccan Light Blue Wool Rug (I think this photo is of a 4×6 rug, and there would be more of this pattern on a larger 8×10 rug, but I'm not 100% positive).
Rug #4: Moroccan Dhurrie Grey/Ivory Wool Rug. The reviews say this is a brighter gray in person.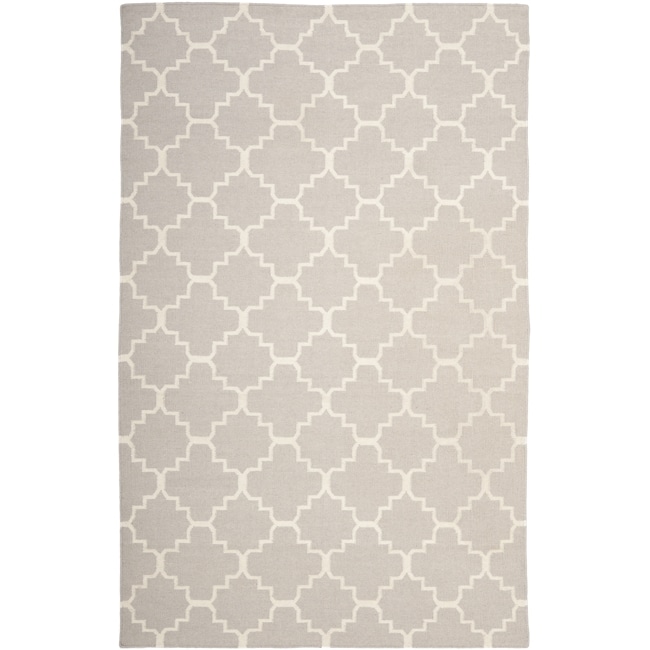 Rug #5: Hand-hooked Alexa Moroccan Trellis Wool Rug in navy
Rug #6: Hand-woven Moroccan Dhurrie Grey Wool Rug