Post # 1
You might remember my post a couple days ago about making the decision to design and make my own dress from scratch (no store-bought patterns or anything of that sort) and to say the least, being a bit stuck.
If not check it out here:
Well apparently, all it takes is to blog about it for me to get modivated. Today I dived into the dress and spend 6 happy hours sewing until my hands became raw (and there might have been a breif break to clean up my dress when I got a needle in my finger and bled all over my wedding dress… I'm sure that won't be the last time).
I drapped and sewed the "base" of the dress, which is made out of silk crepe de chine that I hand-dyed myself from a purse white to a ivory-very subtube pink color.
There are two main decisions I finally made since my last post.
1- I am back to strapless. Why? Because I felt like having straps was making me "drown" in the dress, the skirt part is puffy enough and I felt by me covering up my shoulders was not doing me any favors, espcially since I have smaller/narrow shoulders as is. I'm pretty happy with this decison, happy enough to finally start SEWING my dress after over 5 months of altering and taking apart the dress many many times. whew
2- I can do this and love every second of it.
So here's some crappy pictures from my cell phone of the new progress:
Working on the dress on my dress form. This is pinned before I sewed the dress. The right hand side has me pining right under the bust to give it more definition and the right is it not pinned (which is the direction I went with!)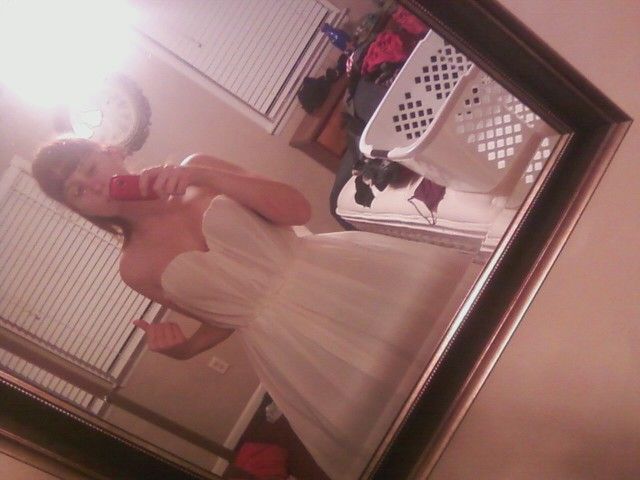 This is me wearing the dress (hello!) It doesn't look as nice because I didn't have any one here to button me up in the back so it's completely open and not fitting correctly. I tried to hold it as much as I can to take the picture but it's definitely a 2 person job to get it on. (It was a site to see me try to get it off on my own, there were a lot of wiggles and "ahhh i'm stuck" moments).
So that's it. Step 2 is complete and I am starting to feel really good about making the decision to make my own wedding dress.