Post # 1
I have another DIY post for tonight 🙂
We found the perfect invitations, through costco! You are actually linked to evites but you get a special discount for being a costco member. Here is a sample of the invite: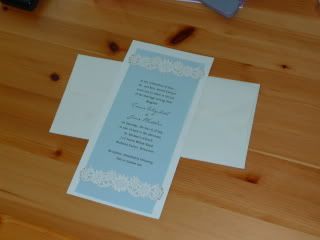 They're tea length and 4 1/2 inches wide and a little over 9 inches tall. We loved everythiong about them, the style, the flower cutouts, the color was great, only one problem. They only came with one envelope.
Let me start by saying if I wasnt poked and proded by family I would be in ettiquette hell right now. So not having an inner/outer envelope was supposedly a "big deal". So after some time spent looking online, the only thing I could use are the big 9×11 envelopes. That was a no go. So what's a girl to do? Make the envelopes!
First I marked off the sample envelope that came with the invitations. We're using this as the inner envelope. I took it apart and measured/traced a line on a peice of card stock that was about 1/4 inch from the inner envelope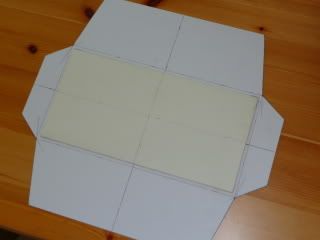 Then I went and bought giant posters in light blue and ivory (I bought everything the bookstore had!) and stood by the paper cutter making 12x 13 squares. After I got those home I traced each one with my template and cut out the notches on each piece.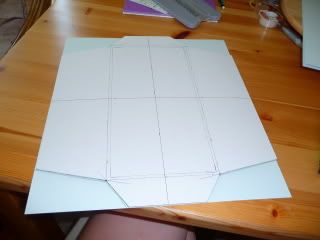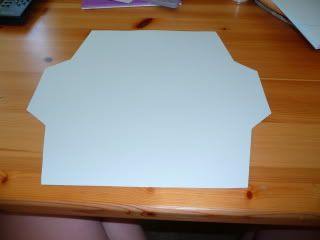 Then I used a peice of card stock to make a fold at each of the 4 corners and made a light crease to make a loose envelope. If these looked even I used the back on amarker to make the creases sharp.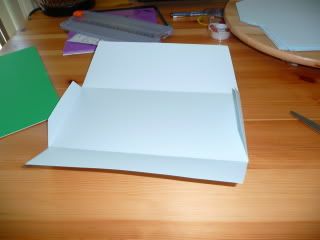 The last step was to glue it all together. I used tape gun thing and put 2 strips of adhesive on each of the smaller flaps. It took a practice envelope to figure out exactly where to put the sticky stuff so that it didnt show where folded.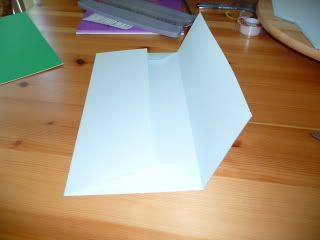 And they're ready to be assembled!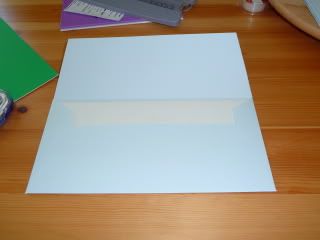 I made about 75 while I was watching TV over the course of 2 nights and spent a good hour cutting my paper down in the bookstore. The total cost was about 60 for all of the paper and glue! I couldnt find any posts about this, but I am really proud of how they all turned out (my mom didn't believe that I made them!).