Post # 1
Hi Bees, another invite poll…we're down to the final three and I'm really torn. Each has its own appeal and advantages. They are all incredibly different in style.
For reference, this is our venue (Amanusa Resort in Bali):
Theme-wise, we're going for a very romantic, elegant, dreamy sort of feel…basically a French-style wedding in Bali.
Here are the top three, and the respective pros and cons:
1) Momental Designs 'Painted Blooms' suite. I love that this is super romantic, and the pricing seems quite reasonable ($9.50 which includes invites, RSVP, reception cards, inner and outer envelopes, ensemble folder to hold it all together, hand-painting in two shimmer colours). I love her day-of designs too.
2) Lucky Luxe 'Chinoserie'. The downside to this is pricing – works out to be about $30 per invitation suite (letterpress invite, RSVP cards, two envelopes with liners). It also comes in a flatpress option which is much more budget-friendly, but the downside is she doesn't have samples of flat print, and she also can't do foil colours for it.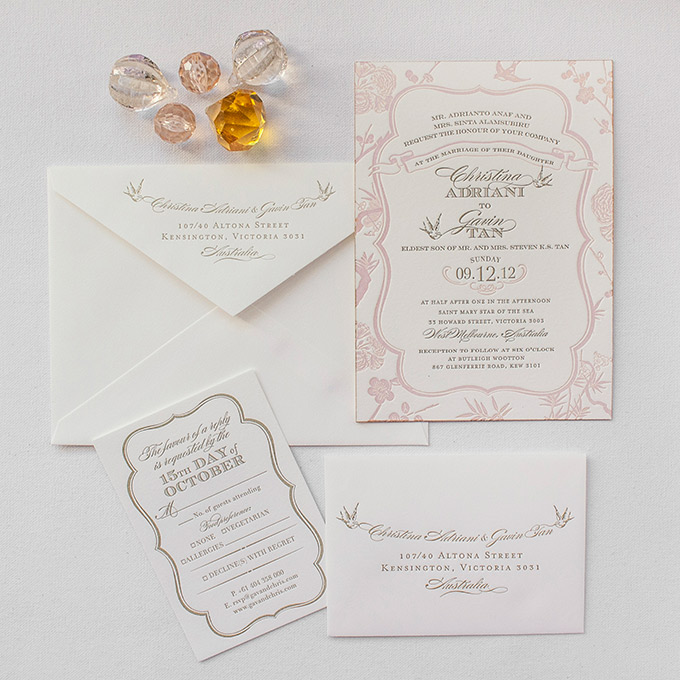 3) Aerialist Press 'Parfumerie'. I think this is the most elegant out of the choices, but perhaps less fun and impactful compared to the others. We would get this with blush around the edges (for the scrolls and floral pattern), grey for the invitation wording and antique gold for our names. This one is letterpress and would work out to be about $20 per invitation suite.