Post # 1
I put "dress regret" in quotes because, while I myself still liked the original dress (which I'd already put a down payment on and everything!), I KNEW my husband wouldn't like it. he likes me in tighter-fitting, mermaid style dresses, and I liked my giant-ass fluffy gowns. ;P
however, I figured, it's his day too, and I'm his bride! I mean, if I really wanted to ~be myself~ I'd show up in jeans and a t-shirt. haha. so in the end, I decided I wanted to impress him first and foremost, hence… went back to dress-shopping.
I found this new dress, which I really liked the top of:
but wanted a silhouette like this on the bottom:
and this is a photoshopped pic for a rough idea of what it will look like: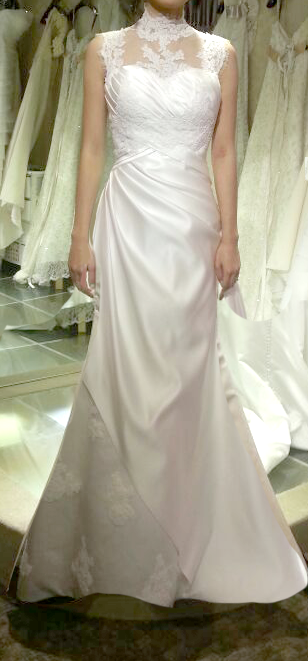 I'm a bit nervous since I can't try exactly what it'll be like before ordering, but they seemed pretty professional with measuring everything so I think it'll be ok.
this was my old dress, by the way: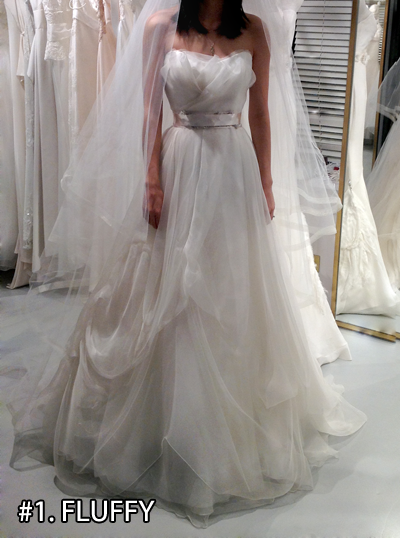 I really, really loved the flow of this dress. but I finally showed it to my husband (since I'm no longer getting this one) and he says he doesn't like it!! figures. (btw I know my waist looks tinier in this dress, but only because it's clipped in the back and the other dresses aren't. I'm thinking once I get it in my size the proportions will look better)
I don't know what I'm asking, I mean I already put in the order… but I guess I'd love some reassurance that I made the right choice. or not. you can feel free to be honest!
OH and one more thing. the old dress would've cost me about $7000. the new dress is only $1350, with alterations! and they offered to throw in a veil, haha. I mean, I did love the old dress, but $6000 more? plus with DH confirmed not liking it? skip…