Post # 1
Looking for suggestions on places to find suitable separates I can get in a hurry. This is my second wedding, and I want to look formal and classic, but I'm having a hard time finding a dress that's just right. The wedding is in February, and I want sleeves, so that's been an issue as well. I don't want an actual bridal gown either. So I was thinking that the easiest way to find what I'm lookng for would be to put together separates.
I'll post a pic, but I'm liking the idea of a high waisted a-line skirt, (something that minimizes the hips but isn't overly "fluffy", and a long sleeved lace top. tied together with an embellished sash where the two meet. These pieces don't need to come from the same place, or come from a bridal collection. Just looking for the "right" skirt and right top. Any suggestions would be great. I'm a street size 16, and petite, (sounds like hell, no?), and since the wedding is so close, I need to find vendors I can order from and get here in a couple weeks or less.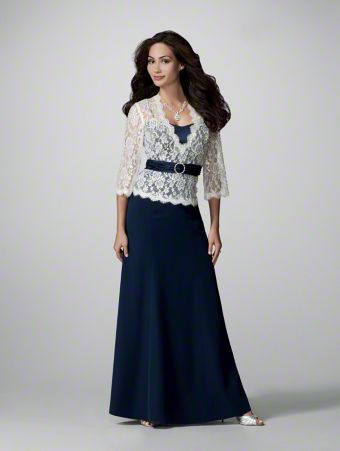 I kind of like this, but I can't order it offline, and I'd prefer to. Also, navy would work since the man will be in his Army mess blues, but I would slightly prefer a gold or champagne colored skirt in maybe a taffeta or such.
Thanks ladies!