Post # 1
I started off casually looking at dresses recently thinking, oh this'll be a cinch! it just needs to be white and comfy and I'm good. but then I asked FI's opinion (big mistake…), and when I showed him the dresses I liked, he said they all look like towels!!!! the kind of dress HE likes has straps, and not just any straps… V-shaped neckline that flows into straps.
this sort of shape: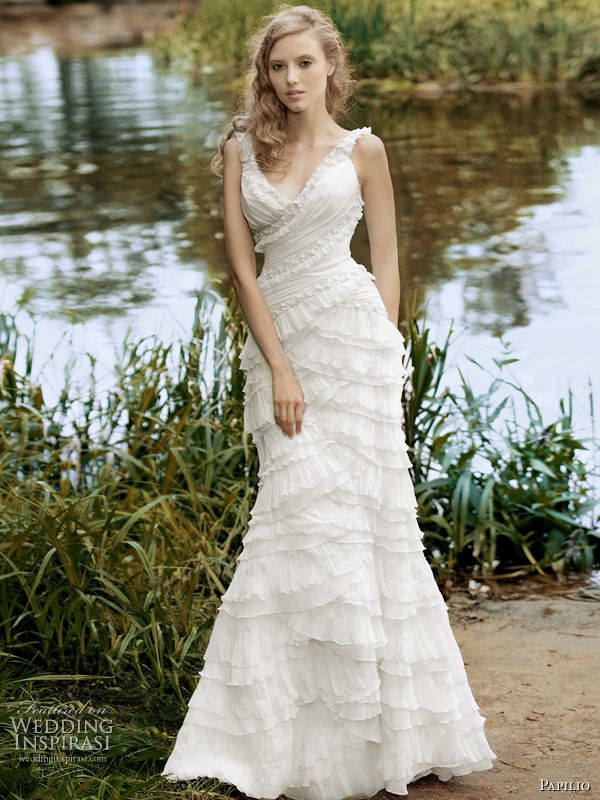 and HOW in the world am I going to find a dress like this??? I thought I could just book an appointment at my nearest Vera Wang, stroll in, and nab the dress. but VW does not have such a dress… at all! and 99% of wedding dresses are strapless anyhow, so… well. that certainly narrows my choices.
of course Fiance says the obligatory "you can get what you want, as long as you're happy I don't care"… but then he gives a lot of reasons for why I "can't pull off a strapless gown"; ie I slouch, I never wear strapless styles and I feel self-conscious in a tanktop already (just because showing too much skin has never been my style; I'm quite happy with my body otherwise), he 'knows me best' and can already tell that I'd look and feel out of sorts in strapless dresses.
I don't know… what to do! very stressed. where can I find sleeved dresses? and I don't really like the look of any sleeve that's not connected seamlessly to the neckline, so not just any sleeve will do… arg!! I'm still gonna go ahead and book my appointment with VW but my hopes are very very low now.