Post # 1
One of you other bees posted up about Zales having a sale. – THANKS!
I have been searching for a pair of earrings for my wedding. I am wearing my grandmother's white-cream-ish pearl necklace (she passed away about six months before I was born, and this is my something borrowed something old) but I am having a hell of a time finding pearl earrings I like enough or that match the necklace. It's a simple strand with a pretty clasp that falls just below my collar bone. I have a three-layer lace dress with a sweetheart neckline that is trumpet/mermaid cut underneath and a lace a-line overlay.
I found these on sale at Zales, online only, for around $160. Sterling Silver, 1/3 TCW diamond, and 2 inches long. I love the flowers, since my wedding flower is a daisy and I'm sure to wear these again! The sale is for online-only and they are non-returnable.

I found another pair on Etsy that I really like, they are mother of pearl (that is a white/cream that I think will match the necklace) with a bell carved into them, which I love and I think that they would be really pretty and go well with the lace – very wedding themed. I just don't know if I'll wear them again. They're $125.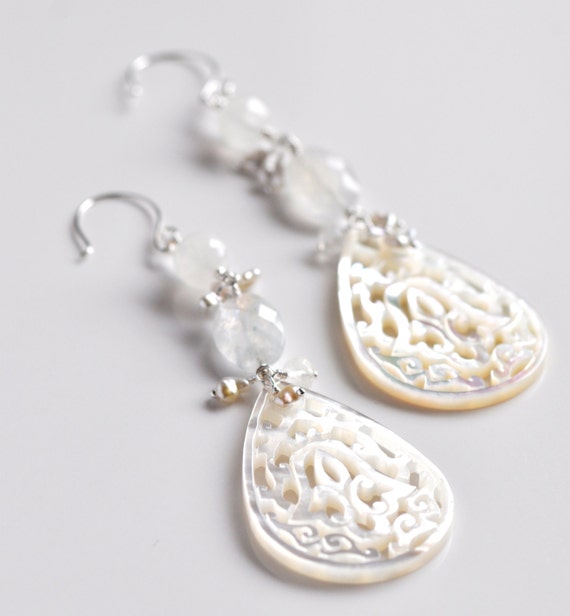 Do I go with one of these, find a pair in store instead of online where I can really match something to them, or just find a cheapo pair?