Post # 1
All right, you bees are pretty magical and finding things in the deep, dark corners of the interwebs – here's a challenge:
I can't seem to find any earrings to match my vision. I loooove amethyst but also wanted to wear pearls, so for my necklace I just put a teardrop amethyst pendant on a string of pearls, kind of like this but only one strand and not gold/yellow like in the pic.
I would really love earrings with both amethyst and pearl elements but could not find anything to go with the necklace or that didn't look too cheap. I soured etsy, but most of the pieces, albeit lovely, looked a little too DIY IMHO.
I don't necessarily need real pearls or amethyst, but at least cultured pearl and nice purple gemstone, not cheapy plasticy beads and crystals. I mean no offense to anyone with etsy jewelry – there are tons of gorgeous earrings on there – maybe I just don't have the proper search skills!
Could you bees help?
Ideally, the earrings would be at least 1.5 inches long (longer is fine) and have some teardrop element. Would like to spend under $200, but if you find something more expensive feel free to post it anyway.
Here are some inspiration ones. If only they had some purple/amethyst in them
or weren't made with cheapy-looking crystals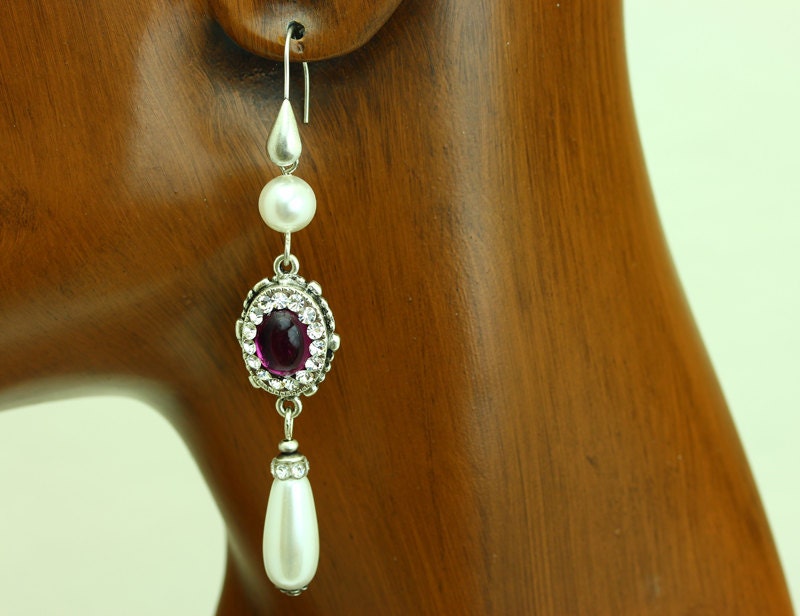 THANK YOU!