Post # 1
I created my account here about 3 months ago. Long before I was actually engaged (Don't tell on me). The reason being, I knew I was getting engaged before anyone else did. My boyfriend (now fiancee) is moving to Michigan in two weeks for two years of grad school. We were at something of a make it or break it point in the relationship. We had talked about doing the long distance thing a couple years ago, and decided against it. Well, fast forward a couple years and we had both changed our minds. The relationship was too important to both of us to not give it a try.
So, for the past year, we've had a plan in place. He would move to Michigan in August (Go Spartans!) And I would stay here, in Buffalo, keeping the job that introduced us, and finishing my 2 Bachelor's degrees. I will finish before him, but once he graduates and (hopefully) gets a job somewhere, he will move me out to wherever (I don't care where we live, I'm just excited to try something new) his job is, at which point, I am allowed as much time as I want to job hunt and find my perfect job.
Sounds like we've got it all together, right? I mean, we've got a plan that we're both happy enough with. Two years of hard work, then we can live the life that we want, together. We had made a promise to be together.
Since about January, we've been talking a lot, weighing the pros and cons of getting engaged now as opposed to after school. Cons: smaller ring, longer engagement Pros: I can live in the city where the wedding will be, so I can plan. I get a beautiful momento of him when he's not here. In the end, the decision was his, and what it boiled down to was he didn't want to leave any loose ends behind when he left. So, one Sunday morning in May, he told me to call the jeweler.
We don't do things within the norm. About a week later, we both went to the jeweler (a wonderful woman who has custom designed rings for several friends and family members). I had always had an idea of what I wanted. Actually, more than an idea. A very, precise mental image. White gold band with nothing fancy, a princess cut solitaire in a cathedral setting. She sat with us, listened to what I wanted, explained some of the finer points of diamonds, and the three of us designed my engagement ring together. We found a stone that fit in our price range, and she gave us a couple minutes alone together to discuss.
One of Mr. Cow's biggest fears was that I was settling for something less than I wanted because of the budget restraints with him going back to school. Another thing was he didn't want me to go too Bridezilla and start focusing on wedding planning immediately (for those of you who don't know me, I might be one of the most laidback people ever, so the chances of that happening are unlikely-Although I won't say never, since we all know how some people get). Once his fears were calmed we left under the assumption that he would call her and iron out all the details so that part of it would be a surprise.
I have to say, they way we went about all of this is very fitting of us. We make decisions together, after weighing all our options. We're both adults, so I see no reason why we shouldn't be able to discuss taking this step in our lives as such.
However, I was not allowed to tell anybody what I knew. Which is not my forte. I was bursting with excitement to tell someone, anyone. Of course, he got to do the guy thing, and tell his family and friends, but I had to keep my mouth shut.
I wasn't allowed to know any of the details, because we wanted part of it to be a surprise. One little piece of information I got was a timeframe. My cousin was getting married the first weekend in July, so I know it would be after that. And his move to Michigan date is August 1st, and he promised we would have time while he was still here to enjoy the excitement together.
So, the first weekend of July came and went, and I started to wonder, When??? I had a couple ideas. He had promised me over a month ago that we could go back to where we had our first real date, so that was a possibility. Then, Harry Potter was coming out (I am hugely obsessed), then we were planning to visit a couple Frank Lloyd Wright buildings in the area (I'm a huge art/architecture geek). And he had also mentioned incorporating mt cat (also known as my baby) into it somehow. So I really had no idea when it was coming.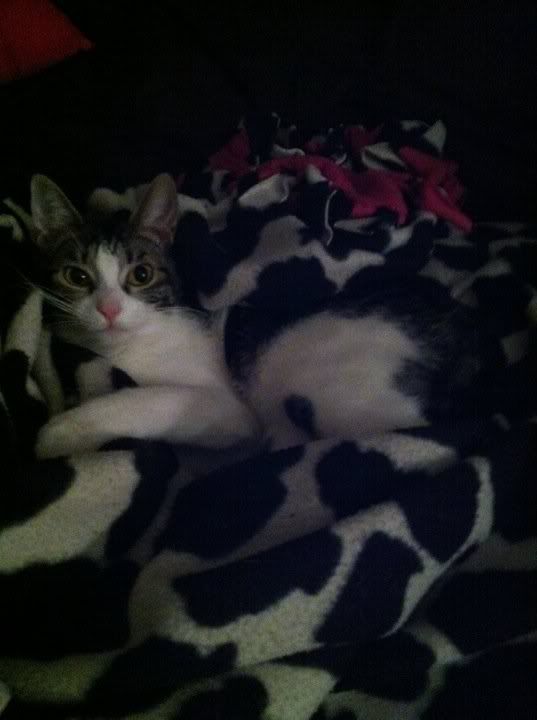 How cute is she?
So, we still haven't made it to the site of our first date. Harry Potter came and went. And I was getting a little nervous because he was running out of time.
Sunday came along, and that was the day we had planned on going to the Darwin Martin house. We went, and it was awesome. His architecture is fascinating to me and even Mr. Cow appreciated it.
After the Darwin Martin house, we went to lunch at a Mexican place we had been talking about for quite some time. And there we tried to figure out what or if we wanted to do anything. After some back and forth, we decided to go to a park nearby and walk around since I had never been there before (I don't know how since it's the biggest park in the city).
We walked around, and I took some pictures. Since I've been on a big photography kick lately.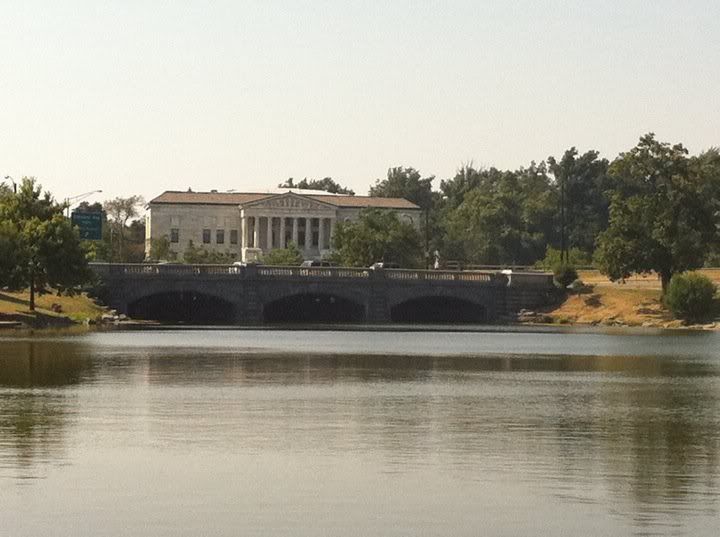 History Museum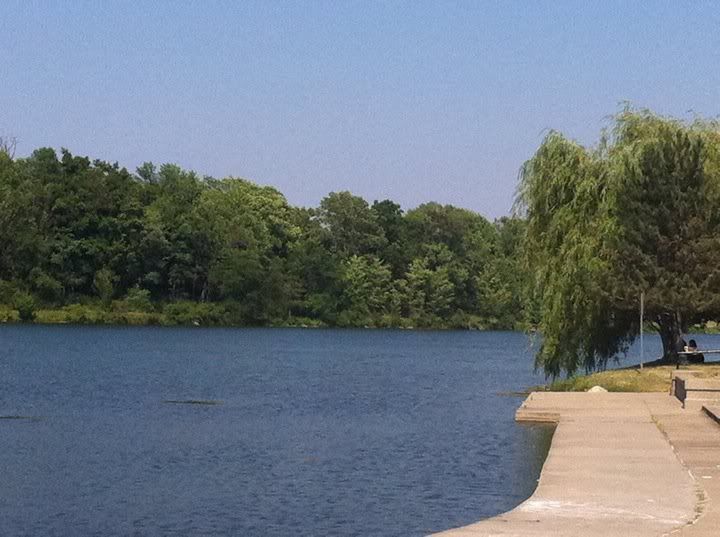 Lake Thingy in the middle of the park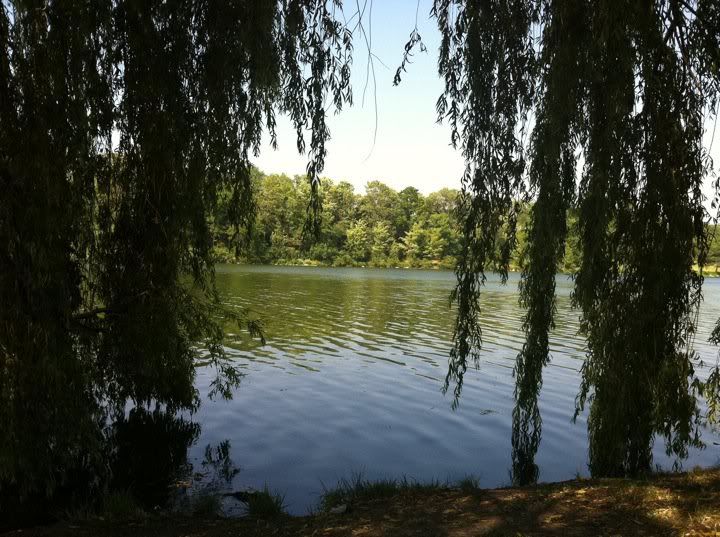 And then we decided to have a seat under a weeping willow tree right by the water, where I proceeded to take more pictures.
I finished up my picture taking, and we sat there and talked about… Honestly I don't know what we were talking about. Because the next thing I knew, he had pulled out a little black box and said… some other words I don't remember at all. And I was in shock, and didn't say anything because I was very emotional. Eventually, I think I figured out what he was asking, and I might have even said yes at some point.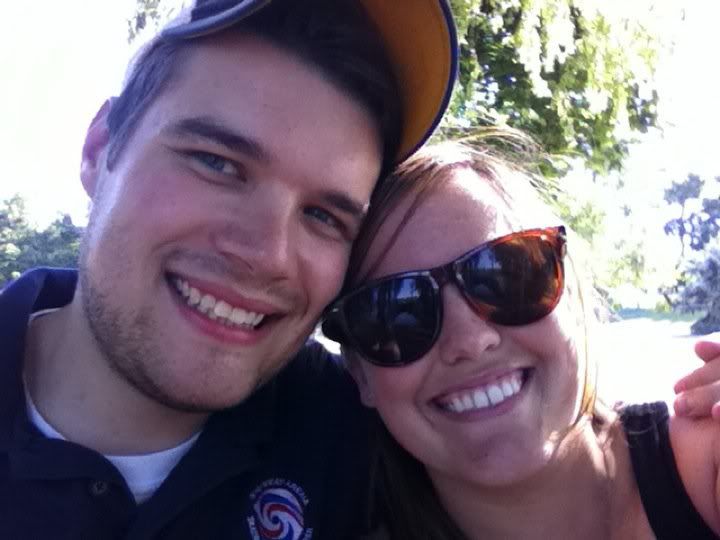 "We're engaged" Picture
We sat under this tree for another half hour or so and continued to talk and relish the moment. Until he said "We should go see your dad, he's going to be on pins and needles."
Apparently, Mr. Cow had borrowed my fathers number from my phone, called him up, and took him out to dinner last Monday while I was in class. My dad and I have always been extremely close, and Mr. Cow knew that it was important to me that he ask him first. So they went out to eat, talked a bit about school and the future, and when he finally did ask, my dad started crying in public. I can think of only two other times in my life I have seen my father cry, and all have been in the past 6 months. When my grandmother (his mother) passed away in February and when my little brother left for his deployment in Iraq in March. Obviously this was a big deal to him, what with me being his only daughter. And I know he adores Mr. Cow too, so he was thrilled. Since Mr. Cow had told my father that he was going to do it Sunday, I can only imagine what my dad was going through.
I called my dad and asked if he was around and if I could stop over to see the dog because I was running errands in the area (pretty sure he saw right through this). When we got there both he and my brother were there (The one not in Iraq, obviously). So I said I had something to show him, and just flashed it. He jumped up, we hugged and cried for a long time (I noticed my brother hugging Mr. Cow and congratulating him during this) then we switched, and calmed down a little bit. We hung out there for a while watching WWC PK's, while I composed an e-mail to the brother in Iraq. I wanted him to be one of the first to know, even if he couldn't be here for it.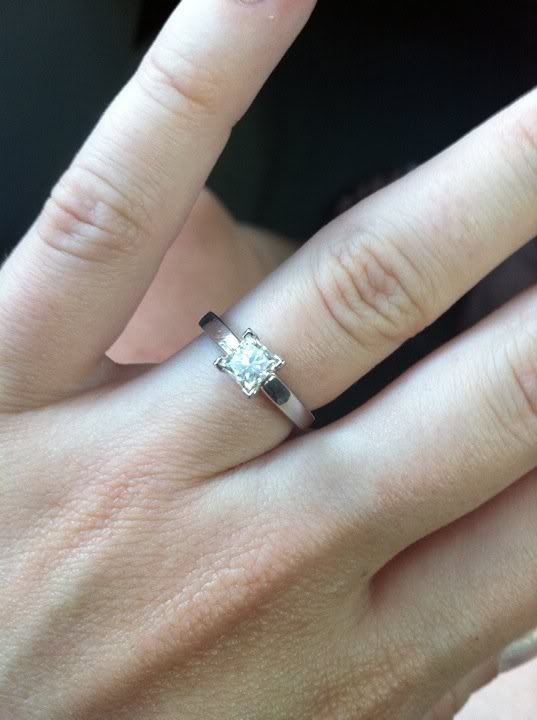 The ring (pardon my hideously ugly hands)
From there, we went to my mom's. Showed her, more crying and hugging. She asked more about how it happened, and when we're going to do it (I think 3 years is still a little early to set a date- so for now I just want to relish this). After my parents were told, we sent out text messages to all our friends to let them know (Even though Mr.Cow had told his parents to expect it Sunday, he couldn't get in touch with them). So after leaving my mom's, we sat in the car with our phones going crazy for about half an hour.
Then, because the third Sunday in July is National Ice Cream Day, we went to get celebratory ice cream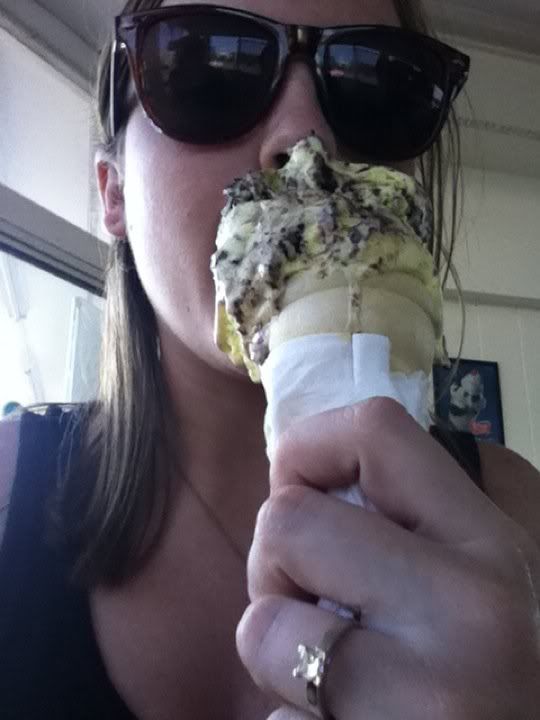 Piece of Cake is my favorite <3 (And the ring again)
We finally got a hold of Mr. Cow's parents, who live in a different city. His mom was actually in town staying with his grandparents, so we went over there to tell the 3 of them in person.
And then I had to go home and do homework. But that doesn't make the day any less perfect. Because now I can finally call Mr. Cow my fiance.
Yay!