Post # 1
So I was trying to think of some ways to make my 15-minute non-religious, no sand/unity candle/wine sharing ceremony a little more memorable and I remembered attending a wedding where the bride and groom faced their guests at a slight angle. After Googling, I found some other examples of this and was wondering if any Bees are doing a similar thing. Here's what I was thinking of:
Something like that. Are any other brides doing this/did this? Did you face your guests directly, or at an angle? Was your officiant in standing in the aisle among the guests or at the altar? If you've attended a wedding set up in this way, did you prefer it to the "traditional" style? I would like to see the bride and groom's face at a wedding ceremony… but I think it would be weird to have us "staring people down" if we were to face them straight on.
Here's my ultimate "inspiration" for a ceremony, though… although I don't know how many people would be comfortable with sitting on the floor, even if it's just for 15 minutes.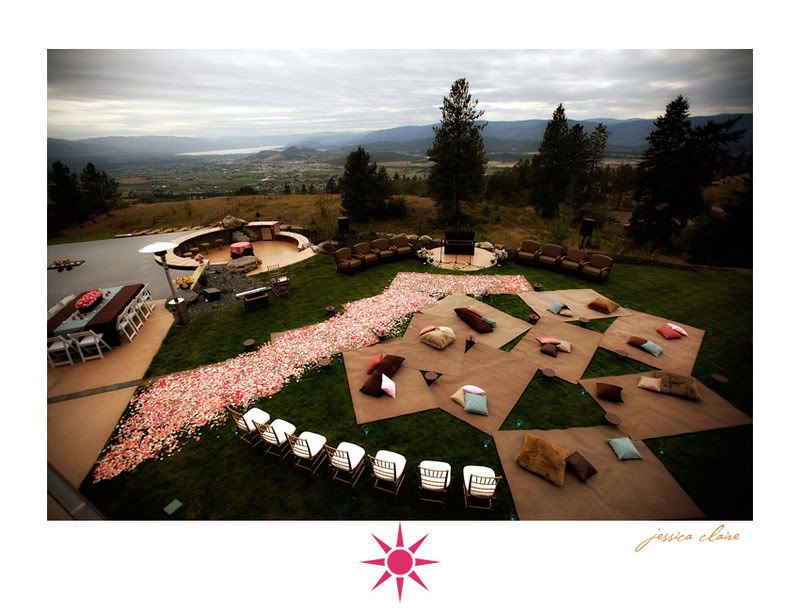 Would you be ok with attending a wedding and then having to sit on some rugs with throw pillows for a short ceremony? Our wedding will probably have a semi-formal feel to it.
Pictures from dayofdreams.com and jessicaclaire.net