Post # 1
Okay Bees, I'm having an issue with feeling guilty about the price of engagement rings, and wonder if what advice ya'll have?
Originally, me & SO agreed on a Scott Kay ring called the Artiste Milau; he found it and asked me to try it on and we both fell in love with it. It is a gorgeous ring, but it was just the mount—rang up to $2,500. We decided to put a natural sapphire in it, which would ring up the price another $1,000 at least.
Well, he went to the field (he's military), and I started to feel really bad about the price. It's a ton of money to spend on a ring. So when he came back, a few days ago, I told him that as much as I love the ring, I can't let him spend that much on a ring. He said "Alright, look for another ring that you absolutely love. I want you to LOVE it because you will be looking at it for a very long time." He did appreciate me being conscious about the price, but he still wants me to get a ring that I'm truly happy with.
So I get to searching….searching…searching…and I found one.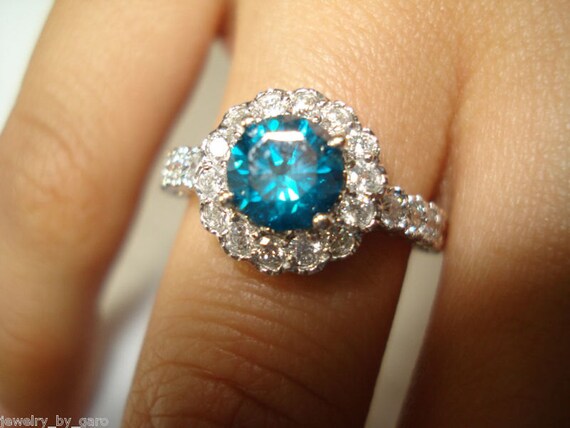 It's a blue diamond/white diamond ring (1.76 TDW) that looks like a flower to me (my name is a flower, so I liked it for that reason, too). I showed it to my guy and he really liked it. Then I saw the price tag: $2,500. He said if that's what I want, that's what he'll get.
Well then I started feeling guilty about the price again, and started looking for rings that look similar, but for a cheaper price. I found these:
This set is $699.00 and comes with a band, which is practical. TDW is 1.00 TDW
This ring is blue/white diamond, .90 TDW and $549.00.
What do you think, Bees? Did any of you guys go through these feelings when picking out a ring? What did you do? Go with what you truly love or find a similar ring so your Love doesn't have to break the bank? I don't want him to spend a ridiculous amount of money, but I'm notorious for being a cheapskate and I don't know what is normal for a ring. :S