Post # 1
Hi Bees,
I can't believe I'm awake at this hour. I just need to rant [again] by how UNFAIR my wedding dress experience has been so far. Let me start off by saying that I am a fashion forward plus sized girl dress size 18/20 and I LOVE to shop. I am really good at finding fab clothes at low prices in my size. I also frequently go to dress up events and love doing hair, makeup, the works. I'm the kind of girl who always has 5-10 formal dresses in her closet, at least one of them new — never know when you might get a last minute invite and have to leap into action, lol! (It's happened before.) I thought, even though I got engaged on Easter, April 8th this year, and I am getting married October 18th of this year, I would have plenty of time to find the dress and plenty of places to try it on because I'm from New Orleans, what I thought was a pretty major city (yeah, majorly frustrating).
Many things happened to make dress shopping impossible!
1) Long story short: Fiance became deathly ill on the day he proposed and was hospitalized for a month. After release he had IV drug therapy for five months!!! I spent day and night at the hospital and morphed into Florence Nightengale. That accounts for the month of April and most of May too.
2) I went to some bridal shows in the area when I got my feet back under me from FI's illnss. BIG MISTAKE. All they do is pressure you to panic and spend $$ before thinking about what you want. The free dress giveaway or other gimmick they offer to get you in the door is a size 2,4,6, etc free bridal gown. Aaargh! Furthermore, the prices are astronomical! And I asked around to see whether the bridal boutiques at the shows had plus sized samples to try. I got lots of blank looks and "ummm, we may have a few size 16s or 20s". WTH?! I already know I wear a 22 or 24 wedding dress based on measurements. I'm cool with that, but I wear a common street size so why aren't there more samples in stores?! (I know the manufacturers are responsible for sending samples, but the system is still BS.) They want you to just look at a dress and order sight unseen!
3) My grandmother passed away in Jan, and my mom has been a bit of a space cadet and difficult to deal with, a new experience for me as my mom is SUPER together and easy to deal with usually. She is only just now coming out of her funk and starting to care about the wedding. I had hired a wedding planner who is a friend and worth her weight in gold from the beginning (thank God) so I was just chugging along without her, but it made looking for a dress that much more difficult. I wanted her to care.
4) I tried the internet, but that felt like a waste of time. Who the hell orders a wedding dress without any idea how the styles will look? If I never take home anything less than fabulous as a general rule of shopping, how can I do less with my wedding dress? Based on looks, I like VW351010 from Vera Wang White collection from David's Bridal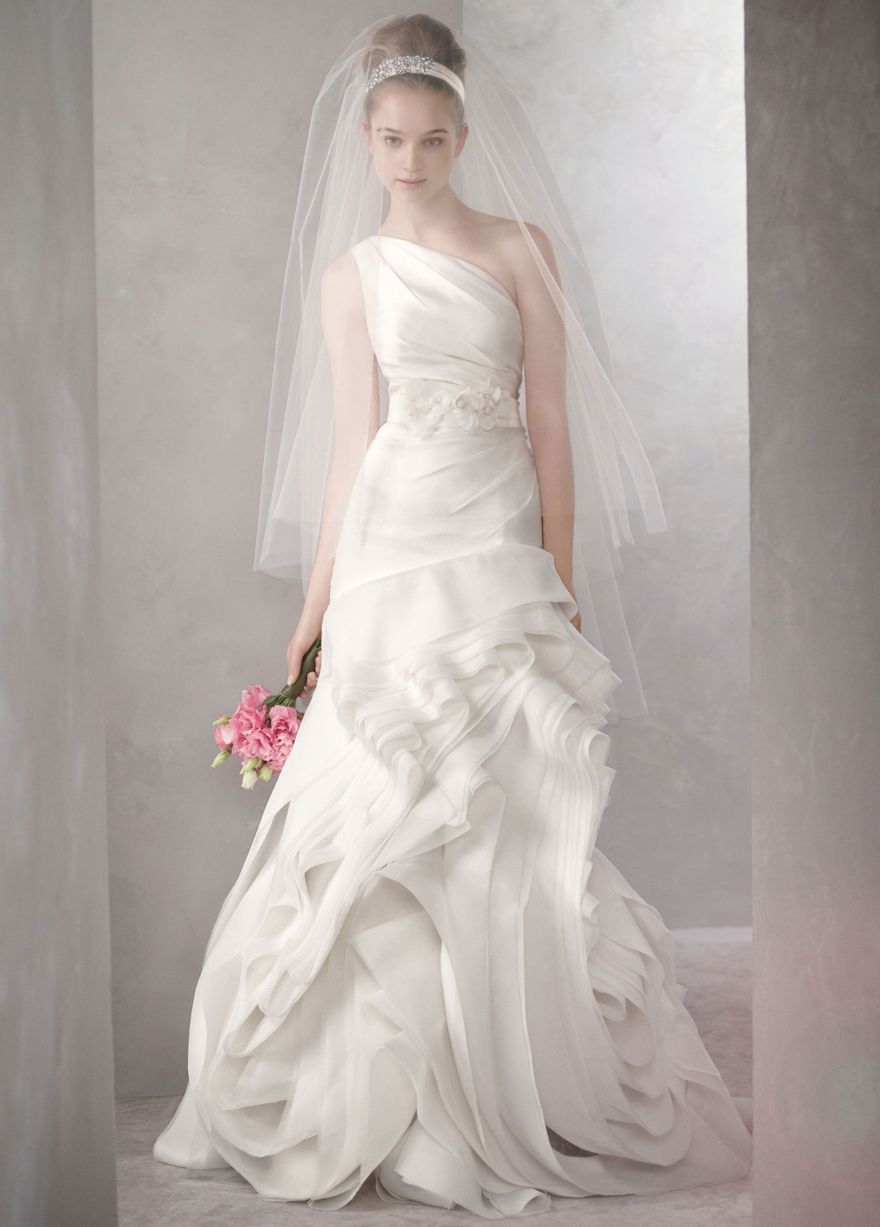 – right price range, couture look, structurally has a good chance of hiding my wobbly bits and still looking fabulous, not strapless. This led me to give it a whirl and schedule some appointments at DB and Pearl's Place, the largest bridal boutique in town that advertises plus sized samples.
I went to those places ALONE because everyone I asked – Mom, my one local bridesmaid, friend, aunts – said they couldn't come. Needless to say I was underwhelmed. To make matters worse, there was my dream dress on the mannequin but no size even close to mine to try. I tried on several dresses, one of which surprised me (Oleg Cassini CKP421)
But even that one didn't close in the back! I left feeling discouraged.
At this point, I have less than 4 months until the wedding day!!! Even though I have a full time job + a major freelance writing project due next week (which I am behind on) + I am building a house to be completed next month + other wedding planning duties, I have CARVED out two days this weekend to go to Atlanta with my mom for some dress shopping. I've made some appointments around time at places that claim to have hundreds of plus sized samples, even one that another plus sized bride found her dress at (and she looked AMAZING). Even though I am excited to go and spend uninterrupted time with mom, I seriously resent the expense and inconvenience of this trip!!
I am so nervous and scared that I won't find anything! What if I do find a dress and it needs to be ordered and doesn't arrive in time? I also need to have whatever I get shipped to New Orleans and altered locally, and that means I have to find a trustworthy alterer, etc… omg!
I'm writing for reassurance I guess? Thanks for listening, bees.