Post # 1
Okay, let me preface this by saying that I have always gotten along SO WELL with my FI's mother. She has no daughters, and has always taken me in from day one as her daughter, we have long talks together alone without the Fiance, we drink coffee, have similar world views – I am blessed in this way.
BUT!
Since we've gotten engaged I've been going a little crazy over there, here are a few things she's said about my wedding (in no particular order, and not nearly all the things):
*Why would you have a first dance? I've never been to a wedding that has a first dance. I think that's sort of unnecessary. (I am having a first dance!!!!)
*I think you should wear gloves because I did and I think they are pretty. (then she kept insisting that I should, and I'm not.)
*Why would you have wedding programs? Everyone knows who the bride and groom are.
*You don't need catering, I've never been to a wedding where they had catering.
*Oh don't get a bustle on your dress, it looks so much better if you just HOLD YOUR TRAIN IN YOUR HAND. (What? Seriously?)
Basically all the little details that seem simple to me, seem complex to her and she is questioning everything. I'll add in here that the Fiance and I are paying for the wedding all by ourselves, we haven't asked for any help and won't.
Well, a few weeks ago my Fiance asked me if his mom could wear off white to the wedding. Now, I am not a bridezilla but I think that if someone is going to be in formal pictures they need not wear white (only the bride should, and my mom is wearing plum!). I immediately said no and that he had better tell her, well he did.
Fast forward to this weekend when we go for a visit and she lets me know that she got a dress, and it's not white. It's beige. In my mind, beige is tan so I was okayyyy with it, not thrilled but I was thinking "at least it's not white." Then I saw the dress.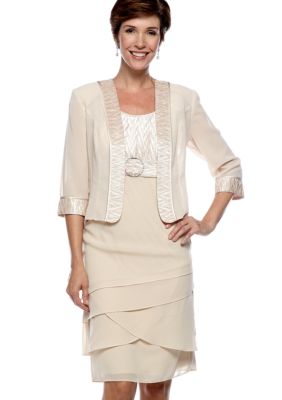 To me, that is very white, maybe Ivory but my dress is soft white not stark white so I was very upset. I didn't say anything because I felt that I'd already SAID something, and the Fiance did relay the message about no white or off white for anyone that will be walking down the aisle. What really sealed it was when Future Father-In-Law walks in and asked if that was my dress for a second before he realized it was hers. If its that white its TOO WHITE.
I'm not a diva, at all. I am very laid back, but this really upset me. Mostly because I was so specific about no white and I almost feel like she was being facetious with the 'it's not white, it's beige' bit.
Well I don't know if Future Father-In-Law could tell I was mad, but the next day she did get a new dress but was almost fanatical about me picking it out like I was so picky that she wanted to MAKE SURE that I liked it, which made me feel really bad and like such a mean person or something when it should be her that felt bad, I think. I know she got another dress, but was I right to be upset??
I didn't say ANYTHING about the dress, because I wouldn't do that especially since she already purchased it, I just thought it was so rude of her to get that dress.