Post # 1
For the One Who Married Young
My husband Andrew and I celebrate our 10 year wedding anniversary tomorrow. We got married when I was barely 20 and he was barely 22, and everyone shook their heads and smiled knowingly.
Of course, I had to write something for the occasion.
This one's for the completely smitten college kids – the ones who got married at 19 in the church basement. It's for you who sat on your parents' couch, hand in hand, while they looked at you, completely panicked.
For the young lovers – and for the older ones – who figured out marriage is much more beautiful and terrible, simple and complicated than you ever could have imagined. This one's for you.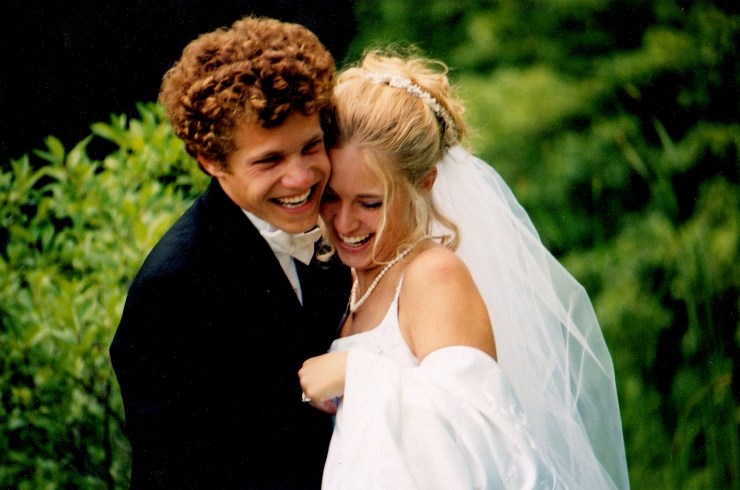 You should know – first of all – that you will regret those light-pink bridesmaid dresses. The ones with the sequins on the bodice that seemed exactly perfect at the time. You'll also wish you'd hired an actual wedding videographer instead of just asking a buddy to do it.
You'll remember exactly two of the things on your plate at the reception. You won't remember, probably, what you eventually settled on for centerpieces, unless you stayed up all night making them with your Mom.
You'll choose friends to stand next to you who are incomparably significant to you in your life right now. They will be there, sequined and smiling. They will be elbowing each other in their black tuxedos and grinning wide.
And maybe they will stay in your life for all the years ahead, bolstering this marriage with their friendship and love.
But maybe they won't.
Maybe they'll move away or move on. Maybe your friendship will change, drift apart, fall quietly away. And if that happens, it's okay. It doesn't mean that their witness of this moment, this marriage, didn't matter. It does. This is all just part of growing up.
Maybe your friends will stay but will move into their own Hard Times, and they won't always know how to be there for you. They won't know what it's like for you as you navigate the narrow waterways of your own married life. They'll nod and listen as best they can, but they won't be able to really understand.
Marriage is like that. In some ways, it's so universal – all of us battling the same basic struggle as we try to communicate across the threshold of our vows and between the boundaries of our souls.
But in so many other ways, it's not universal at all. Each marriage is as different and unique as the people who join their hands together.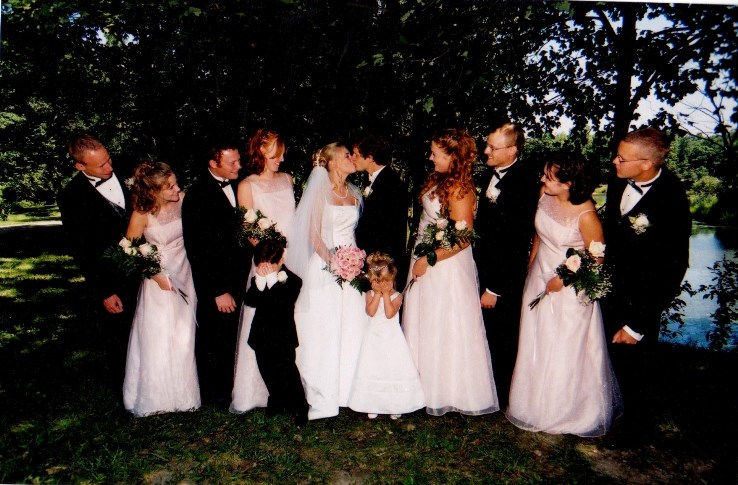 When you marry young, you'll know the delight of building a life together out of garage-sale coffee tables, relatives' old couches and thrift store mugs. You'll stop your car in the middle of the road and reverse half a mile to pick up an old, falling-apart-desk marked Free. You'll laugh all the way home, high of the unexpected treasure of all of this.
There's a good chance neither of you will really know how to cook, and you'll make the journey together from Macaroni and Cheese to Betty Crocker's corn flake-crusted chicken. When the apartment fridge starts reeking for some mysterious reason, you'll have to tackle it together. You'll learn how to keep track of your bills and stay in a budget and make your own space.
The car will break down. The rent will go up. You'll have to figure out whose parents' house you're going to for Christmas. You'll both be entirely sure it should be yours. Your arguments will burn red-hot, and then you'll learn the slow love of making it right. You'll learn, together, what it means to be grown up.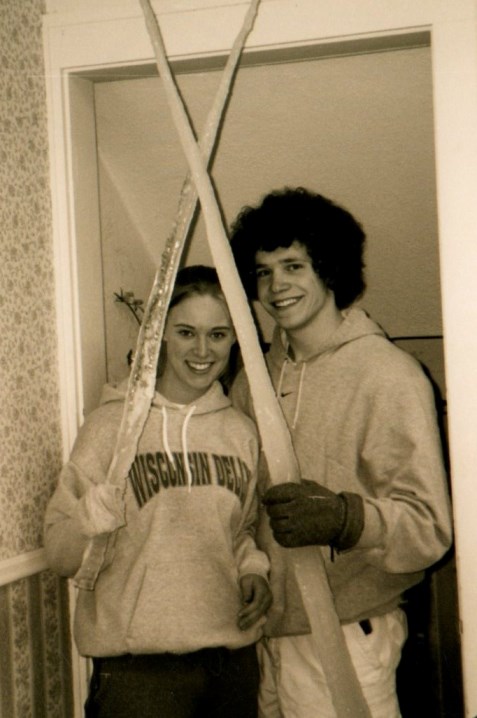 When you marry young, you'll change and he'll change, and in the midst of all of this growth you'll realize that you can't change each other. There will be moments and days and seasons that are really hard. And you'll be tempted to think it's because you got married young, but really, it's just because you got married.
Some nights, you'll turn the lights out and you'll turned away from each other in bed, and you'll wonder about this life you're living. You'll stare at your wedding photo hanging on the wall, and you'll think about how young the two of you look there – all dressed up and playing at love.
You'll feel so far from the person you were then. You felt so grown up, but now you know you were still so much in process. Your mind will drift to the other twenty-somethings, the imagined glamor of their unencumbered lives. Apartments downtown without his giant TV-Playstation combo. A bachelor-pad where no one leaves the bathroom sink strewn with makeup or clogs the drain with long, blonde hair.
You'll be tempted to invent an alternative life for yourself, the one that you might have had if you hadn't married young. It will look simple and glittering from where you sit, surrounded by laundry and all the other miscellany of normal life. But this is a mirage; a trick of the mind.
Life is hard no matter where you live it, no matter who you live it with.
If you are to keep it, you'll have to work hard for this love. You will have to fight for it. Some nights, you'll have to choose to sit there on living room carpet in the silence of a dragged out argument instead of walking away. You'll have to sit there while the night grows dark and you both get tired, and you'll have to chip at the barrier of misunderstanding one bit at a time.
If you hit a snag that you can't untangle by yourself, don't be afraid to get help. Go to counseling – together and alone. Do your own work, and then do work together.
When you get married young, you'll be tempted to hold onto decades' worth of careless words, hurtful actions, and missed opportunities. During the lowest moments of your marriage, it will be easy to stack them up in a con column and use them to excuse yourself from the daily work of love.
Don't.
You hold in your heart each other's worst and best, the awkward movement from child to adult. You are the witnesses of each other's most sacred lives. Be careful with one another.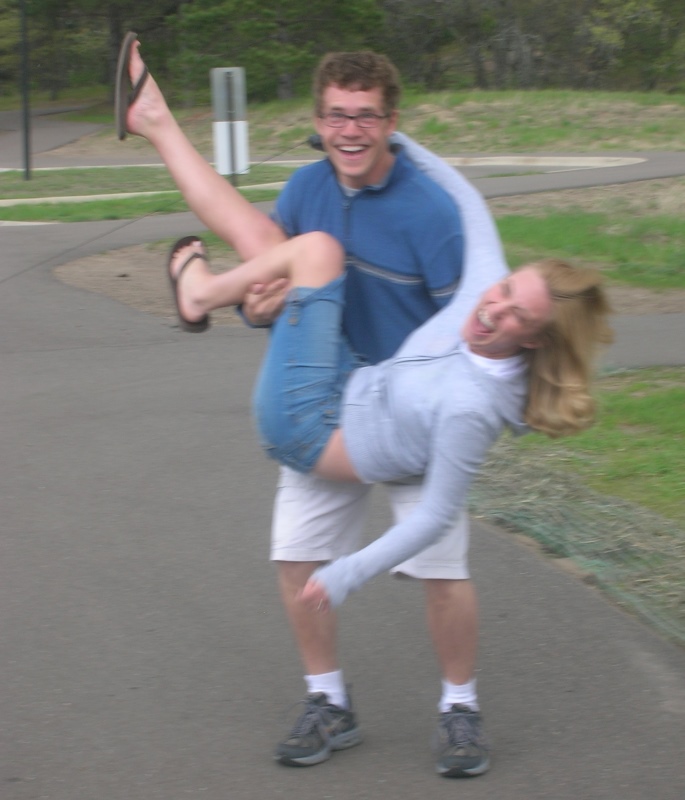 Every year on your anniversary, go out. Even if all you can afford is McDonalds. Remember it all. The honeymoon trip to Mackinac Island, where you wore your prettiest dress and sipped demitasse at the Grand Hotel. The white canopy over your garage-sale bed frame and the giant speakers he hauled from his parent's house – your first "sound system."
Remember the random moments, the funny ones, the hard ones, the precious ones. Line them all up on the table between you until suddenly you find yourself remembering toward the future.
Talk about it all over again until you've closed down the place and the guy comes by with the broom and the bottle of cleaner. Then take each other by the hand and go home.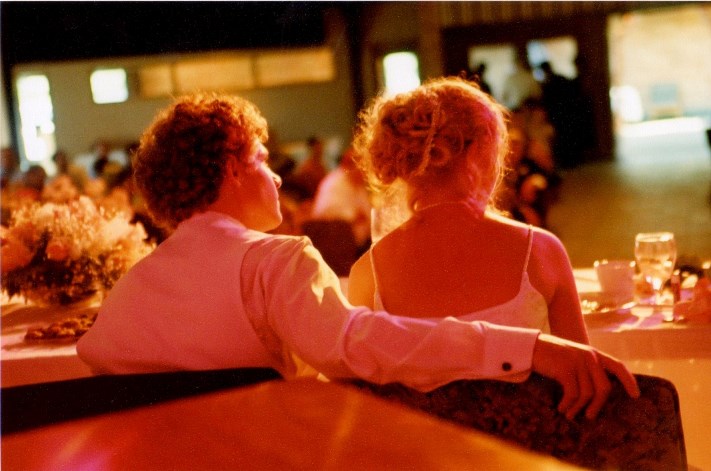 Author's Note: I publish this post with humility and care, knowing that sometimes a marriage is too fragile to hold together. There are instances when, no matter how hard you fight, you can't seem to save it from that hard, inevitable crumbling. If this is your story, your experience — grace and peace. May you find beauty and redemption in the hard journey toward wholeness.
(I share this beautiful article with others who are marrying young. My husband & I are 21 & recently married. We realize that marrying young is not for every couple, but for those who choose this path with enduring commitment in their hearts, it can be incredibly rewarding.)
Hope you enjoyed!