Post # 1
I found my wedding dress!!!!
It was kind of crazy. I really wanted something with lace or with ruffles…something with a cute, fun, vintage/rustic vibe. I'm a pretty trend-oriented, artsy gal, and I wanted my dress to really reflect that. However, all of the styles I tried on were very unflattering. Also, my fiance is very slim, so I decided not to get anything with too much volume.
I would NEVER have chosen this gown had I not tried it on. And, in fact, my sister was the one who forced me to try it on (she just got married last year and knew what would look good on my figure!), and I only tried it on to humor her.
Turns out, I look so darn good in it, I couldn't stop staring at my back. The cut of the sweetheart neckline gave me no weird armpit fold thing, and I just felt so beautiful in it!! Plus, it was on clearance and discounted due to being the sample gown (will need spot cleaned but that's it!).
The gown in general is a bit more traditional(?) or "typical bride" looking that I wanted. While it's ivory, it's a whiter ivory than I wanted, and the material is charmeuse which is more formal than I anticipated. Not to mention, there's a chapel train.
I want to add some accessories to wear with the dress that really make it fit more with a vintage feel. I could easily see it being kind of 1930s-40s Hollywood glam, but we're wanting more tea-party, 1910-1920s style vintage theme. I already have collected a lot of milk glass and cobalt blue vases along with vintage mirrors and tea tins for centerpieces.
Kind of this idea only way cuter.
So, to make my dress look more appropriate with the theme, I'm thinking about adding this: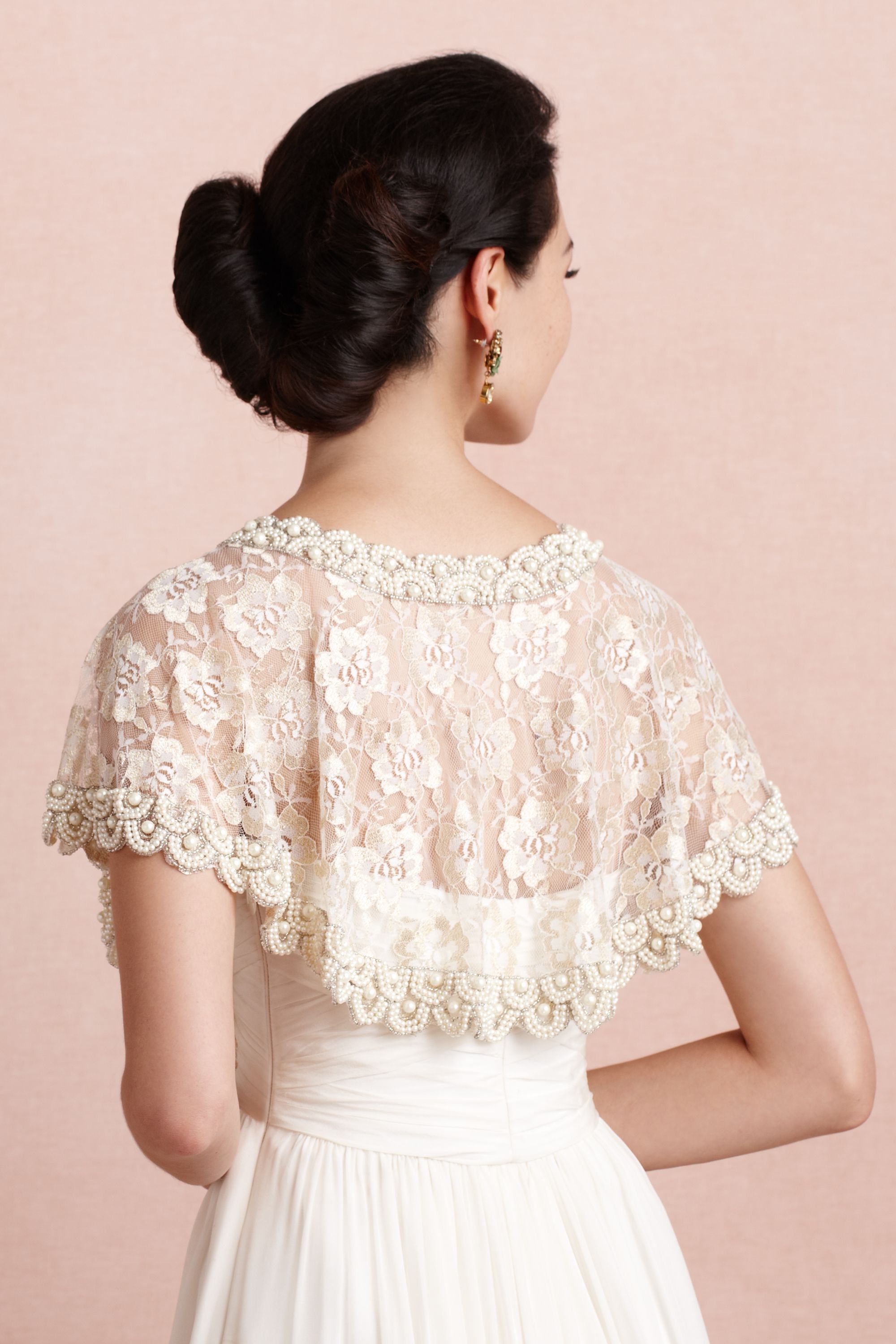 Looking at the backs of the dress and this capelet, what do you guys think? I feel like they will look good together, but I'm wanting to see what others think.
I'm open to other ideas for lace boleros or other cover-ups, specifically lace.
Additionally, what about a broach or THING to add to the front of the dress? The gathreing doesn't lend well to a sash. Any ideas on what I can add to give my dress a bit more vintage-rustic POP I'm looking for?
THANKS GUYS!!!