Post # 1
Okay. Maybe it's not that black and white. When my Fiance and I moved in together he had a fully furnished place, and I had very little due to a cross country move a few months prior. I like his style, I don't love it but it's nice quality items, a lot from West Elm, and matches my mid century modern preference. We found a table at Crate and Barrel http://www.crateandbarrel.com/furniture/dining-tables/1we both liked and put it on the registry (for the completion discount)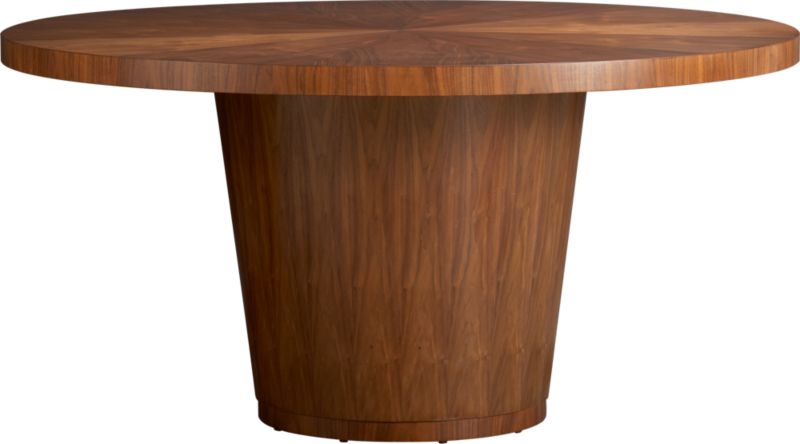 Over time thinking about the veneer and compressed wood table I started wondering if it was practical. I mean, it's beautiful, but some of the reviews, and my own experiences make me wonder if the quality is high enough to justify the price, and be a piece we'll love years from now.
I decided to shop around a bit and found this at Pottery Barn, http://www.potterybarn.com/products/montego-pedestal-dining-table/?pkey=cround-tables
which I totally love. It's round, higher quality, less price, and beautiful. Fiance thinks it looks too "old fashioned"with the pedestal, but I think it looks classic, and paired with these chairs
will look more modern.
He loves this table http://www.potterybarn.com/products/benchwright-dining-table/?pkey=csquare-rectangular-tables
which is nice, but more rustic-farmhouse than I want to go with our decor. It's also HUGE, and doesn't seem as safe for when we have little peanuts running around. Also, this may be silly, but it doesn't match with our China pattern at all, either mine nor my grandmother's which I'll be inheriting (and have coveted for years).
Here's my question. Ultimately the decorating/home arena is mine. Meaning, as long as he has a few pieces he loves, the place looks nice, and he has a place to hang his art, he's happy. BUT he's saying he really doesn't like this table, even though I love it and think it will look perfect. Do I railroad him? My unhappiness with a table will last far longer than his – I'll entertain with it, feed our friends and family on it, and view it as a part of our collective home space. He'll throw his mail on it, and walk past it. I mentioned before that he had furniture from before that we've incorporated, and a part of me feels like, if I already have so much that is his in the house, I deserve THIS. Silly or fair?