Post # 1
At this very moment, Darling Husband is at an orthopedist's office to have his shoulder looked at. His GP told him he needed to see a specialist. Fortunately, I know a fantastic orthopedist. When I tore my ACL in 2004, this is the guy who fixed it. He was also the one to first diagnose me with my weird ligament condition, so I know he's good.
I also never minded all the follow-up appointments I had to go to after my surgery… mostly because this doctor was smoking hot. I seriously had the biggest schoolgirl crush on him.
Poor Darling Husband. He really just won't be able to appreciate this doctor as much as I would. It's too bad that Darling Husband is the one in pain. I wish I could take it all away and give it to myself instead. You know, just because I love Darling Husband and don't want him to hurt. It has absolutely nothing to do with the fact that I kind of want to go leer at the doctor for a bit. Nope, definitely not that.
…Think I can ask him to snap a picture with his phone? You know, just so I can make sure he saw the right doctor. No other reason. XD
Sexy doctors are the best kind. And because man candy is always fun and I'm feeling generous today, have a sexy doctor as a gift from me to you: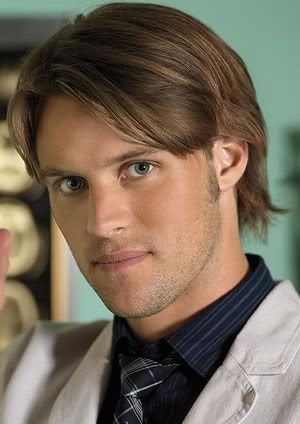 Happy Monday, ladies!