Post # 1
Wedding: September 2013 - The Skinner Barn
I have all of my wedding accessories put together, minus one thing: the garter. I'll start out by saying that we are absolutely NOT having a garter toss. For that reason, I had decided to just not wear a garter. However, when I mentioned this to my fiance he wasn't happy. He just said "Aw, come on! Wear one for me? No one else has to see it". It's very little to ask so I decided to buy a garter, I'm just having trouble picking the right one.
My whole outfit is very vintage looking so I could get something vintage-y and bedazzled to match the whole ensemble. However, these garters are pretty pricey ($85+) for something no one but my fiance is going to see. He'd probably think it was pretty but that's about it. This one is from Millie Icaro and is lovely but costs $110.
My other option is a little different. My fiance is in the Army but we don't show our military pride in a traditional way. No camo or "our love is Army strong" stickers. Instead, we love Captain America. We're nerdy that way. So I thought it might be funny to get a Captain America garter. I found this one on Etsy and it's less than $30 for the set (even though I'd only use one), so it's definitely more affordable. I just don't know if it would be weird because it's such a stark contrast from my outfit. Does it really matter though, since no one is going to see it anyway?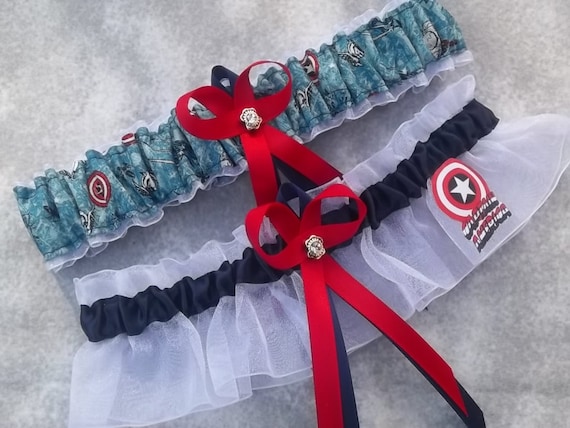 What do you guys think? Should I pay for vintage because its pretty or express my nerdiness with a comic garter?