Post # 1
I love my engagement ring, but after a few months I realized it's a bit bulky for my taste and I think having a thinner band on it would really help that. I also want to be able to wear a wedding band with it sometimes, which would make it look even bulkier. I have spoken to the jeweler who made it and he said it could be easily and inexpensively done, so now it's just a question of whether it will look good! Right now the thickest part is 3.5mm and he said it could be thinned down to 2mm but it would have to taper from where it meets the basket setting with the diamonds. He said it could also be made narrower the other way, so when you're looking at the profile it's not as thick either.
My setting is like this: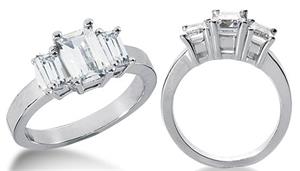 And I'm hoping to go for something like this:
Thoughts? Has anyone had their band made thinner before? Will it look bad if it tapers from the basket?