Post # 1
So I got all of my Bridesmaid or Best Man gifts today! Horay! Anyways I wanted to know what you think.
For 3 of my girls (one won't be at either and didn't offer to help in any way due to distance and her job) that are hosting the Bridal Shower and put the effort into throwing that AND my Bachelorette party on Saturday, I got them…
Lolita wine glasses:
For the Bridesmaid or Best Man that is a born and raised Floridian
And the other two (that aren't from Florida)
For all 4 of my BM's I also got them these:
not with this engraving…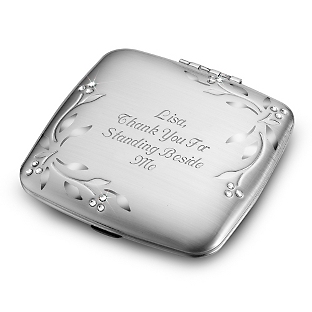 With their first initial on the front… and their name on the back
And then finally a silver silk shawl to wear with their dresses if they get chilly during the reception and moving between the house, the church, and the reception.