(Closed) Green Flowers?
posted 14 years ago in
Flowers
Post # 17
Green Orchids!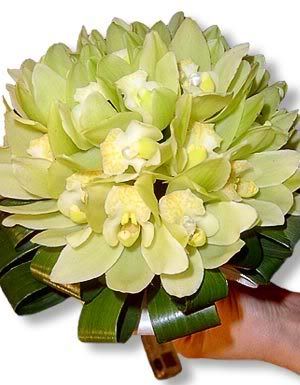 Post # 18
Our color scheme was chocolate brown and hunter green. We brought in a lot of white to lighten it up. I didn't want the dark colors to get too heavy. Here's a pick of the bouquet I did myself… http://s246.photobucket.com/albums/gg113/jeremyandbonnie/?action=view&current=DSC_2092.jpg I used one green hydreagea bloom as the base, green limbo roses, green hypernicum, white gerber daisies and a few sweet peas for sentimental reasons. I then wrapped the stems in 2" wide chocolate brown satin ribbon. I was super duper happy with them! We used wheat grass that we grew ourselves (so easy!!!) in wooden window boxes that my husband made for decoration on the buffet tables. Good luck!!
Post # 19
Baby's breath is cute and inexpensive….
The topic 'Green Flowers?' is closed to new replies.