Post # 1
Hi All!
I've been lurking around this blog for quite sometime now. My SO and I have been together just over 4 years, about a year ago I fell completely & totally in love with this ring off of Etsy: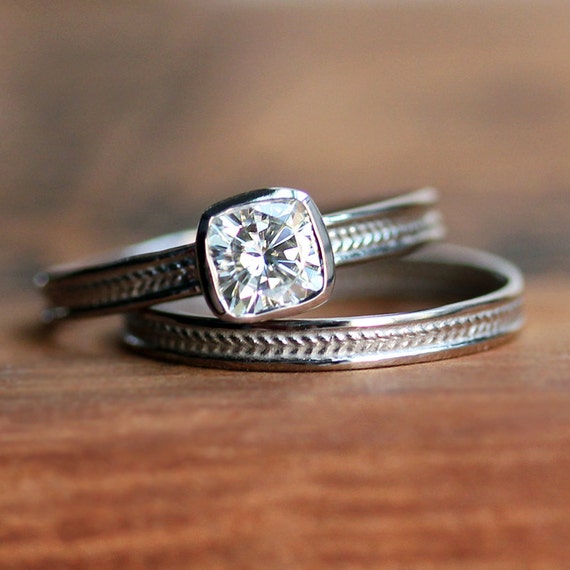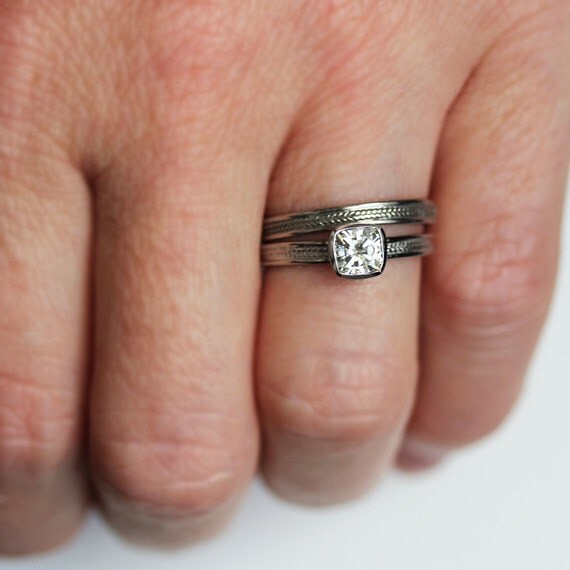 From her Etsy page: Engagement ring set – moissanite – recycled 14k palladium white gold – cushion solitaire – wheat braid – made to order
I hand carved this bezel and had it cast into recycled 14k palladium white gold. Then I soldered it to my wheat braid wedding band for a simple yet stunning engagement ring. I set a 5mm cushion cut moissanite gemstone, even more sparkly than a diamond, into it and gave it a soft polish to finish it up.
Anyways, my SO and I are pretty frugal people, we love to travel and prefer to spend our money on things like that then cars & tangible things. However, that didn't stop me from googling and dreaming of gorgeous & big rings…. Until I stumbled upon this gem 🙂
I'll make a long story short – I know he has the ring and in 3 weeks we are taking a vacation to Mexico. I can't hardly stand how excited I am. I can't tell anyone I know, minus you guys, because if he found out I knew he would totally wait – until I didn't expect it. 🙂
My ring size is a 6.5 (using a plastic ring sizer), I'm a little freaked that it won't fit, but based on the reviews on Etsy I think if that were the case she would help resize it.. I'm also afraid that the center stone will be too tiny on my hands. What do you think? It's a 5mm stone, and my hands are 6.5.
AHH, so glad I got that off my chest – now just time to wait!