Post # 1
Hello all!!!
I have been following the wedding bee blog and once in a while I ready the boards as well… I love this site!
I finally decided to join since I am, starting today, full on planning a wedding!!! It's not my wedding though, my BFF is getting married in November and as her maid of honor I am taking care of mostly all the planning. I'm very excited yet clueless of what it's going to be like!
I have planned several large parties since I am part of a large church and we often do banquets and the like, so I am a little confident! These are some photos of a recent event I planned and decorated:
Table:
(all DIY and the lights I changed to blue bulbs for a bootleg version of uplighting lol)
(& I designed this photobooth & took the pics!)
Anyway, these are the details my friend and I have thought of for her wedding:
Wedding date: November 19
Venue: Banning's Landing in Wilmington, CA… A community center overlooking the San Pedro harbor… It's quite a hidden gem and sooo afordable (pics of it at the end).
Colors: not sure yet but red is def. part of it. I am thinking of pairing it with white, cream and gold since November is between fall and winter… But really, south Cali is pretty consistant year round so this is a toughie!
Wedding party:12
Guest list: 250
The wedding venue is plain, but the people here are not picky or strict with what we can do with it, which is one of the main reasons we liked the place. We have alot of flexibility to what we can do.
Here are some of my ideas so far:
Use uplighting to dress up the place :
Use alot of christmas lights/cafe lights
Use tall centerpieces since the ceiliing is high
Use the stage as the altar and couple table for bride and groom
HAVE THE CEREMONY AND RECEPTION IN THE SAME ROOM – We are still deciding if to have a seated-at-the-table ceremony or to rearrange the chairs!
So this is pretty much it! She has a vision of having lots of lights. And I want to give it a theme but I don't know what!!!
These are some photos of the venue:
(back of the room opens up to reveal more space)
(room & stage)
(with the lights on!)
(lobby area)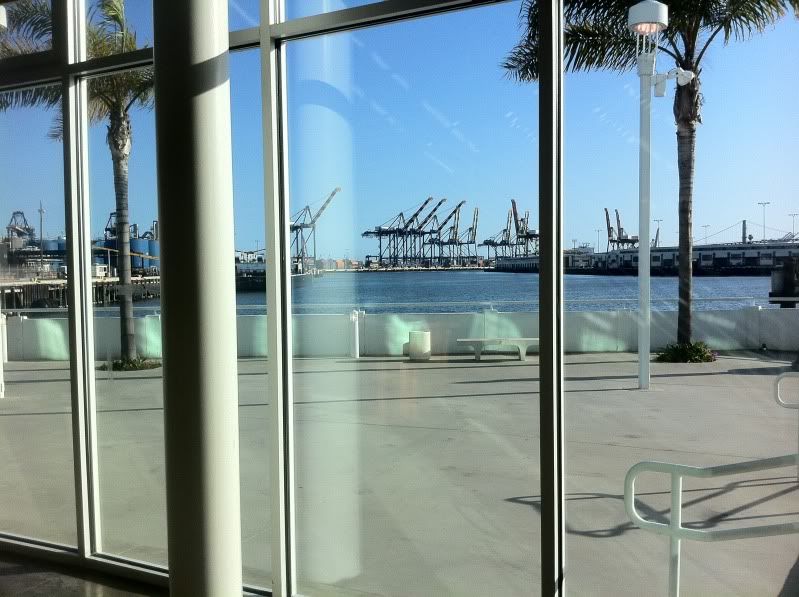 (view of the outside!!! the lobby is all glass, and this place overlooks the harbor 🙂 )
All you brides that have planned weddings before or been to many weddings, what do you think of these ideas? Can they work in this place? Any suggestions for themes/colors or other things we can do?