Post # 1
Hello again!
I am looking for more help with choosing a black diamond RHR..actually two, I am having such a hard time deciding so I am going to get two. I posted aago about bout a week ago the same thing, but the one I chose is going back, the diamonds in the halo are so bad..they look like opals!
Anyways, please vote for the two rings you like best!
And, if you have a black diamond ring, please post a pic! I am so in love with black diamonds!!
Ring A .5 CTW black diamond three stone ring
Ring B .5CTW black diamond Princess cut solitire with channel set black diamonds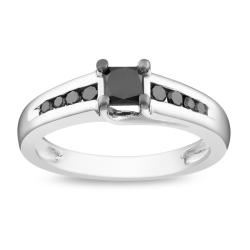 Ring C Ring C White sapphire black diamond three stone ring
Ring D White sapphire black diamond halo
Ring E Black diamond clusters white sapphire centre
Thanks bees!