Post # 1
The SO and I have decided to buy each other's wedding bands for Christmas this year, and I'm trying to decide which one I want. Here's the engagement ring I'll be wearing it with:
A more close-up picture can be found here. It's 10k white gold with blue and white sapphires. You can't see it from the pictures, but it's on a cathedral-type setting so the stones sit fairly high up off my finger. The top side where the stones are widens toward the center, but the part of the ring that actually touches my finger is the same width throughout – I would guess about 1.5 – 2 mm or so.
Here are the rings I'm considering:
Option #1:
14k White Gold Comfort Fit Milgrain
This one would match the wedding band I'll be getting for him. Pros: I like the idea of having matching bands, I like milgrain, it's simple, it's not very expensive, I like the width (3mm). Cons: No sparkle, not sure it'll go very well with my engagement ring.
Option 2:
14K White Gold Natural White Sapphire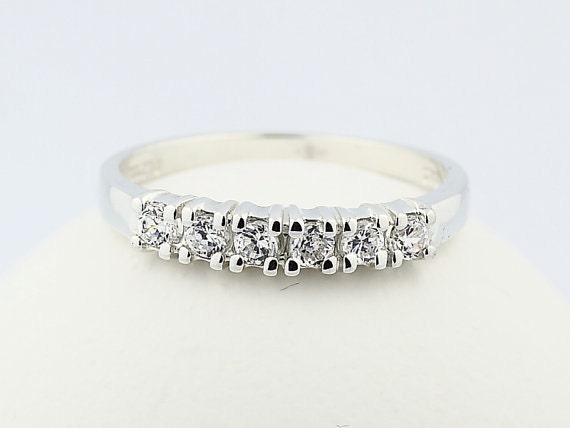 Here's another shot of it: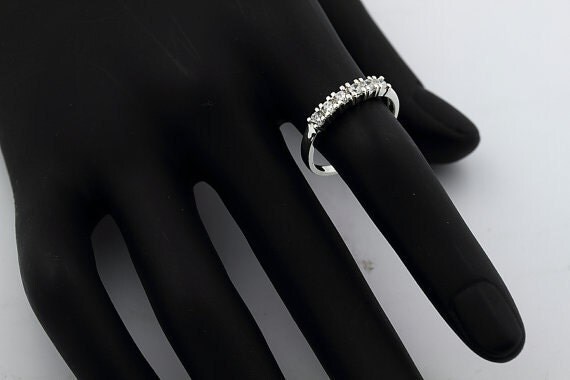 Pros: White sapphires, white gold, not too expensive, SPARKLY, 3mm width. Cons: The prong settings don't look too high, but I'm still afraid it wouldn't sit/look right with my engagement ring. Also, it wouldn't match my FI's ring and it isn't listed as being "comfort fit". (Then again, neither is my engagement ring and it's perfectly comfortable.)
Option 3:
10k White Gold Blue and White Sapphire
Pros: White gold, Sapphires, Channel-set, presumably low profile (unfortunately there's only one picture on the website). Cons: Most expensive option, only 10k gold, again doesn't match FI's, no width listed, not sure if the blue would be too overpowering.
What do you think? Which one would look the best with my engagement ring? Right now I'm leaning toward option 2, but I'd like to get some of your opinions before deciding.