Post # 1
Hey bees!
I'm just trying to combat any future invitation-regret. XP We had our invitations designed by an etsy seller, RiverStDesign, and we're printing them ourselves at vistaprint. I just received the proof in an email and i was hoping you could tell me what you thought of them. She gave us two color options for the invitation itself, and if you could vote on which one you like better, I'd appreciate it. 🙂
Option 1
Option 2
This is the image we saw and loved, and for that reason I think I'm leaning toward the darker background invitation. But I can't ever make up my mind! 😡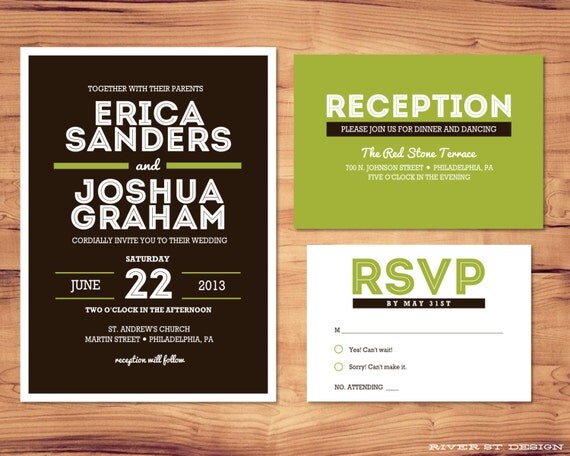 ( Credit – RiverStDesign She's been great.)
(We also used her for our STDS which you can see here)
In addition to the invitation, we had a travel card, an accomodations card, and a double-sided postcard RSVP.
I love the design of the travel card, I just wonder if the directions would be easier to read in a bullet format, one step per line?
This one I really love, I just wonder if the yellow will be too bright for older people to read? i don't have a problem with it, but many of my relatives are older and have poor eyesight. Please let me know if you have trouble so that i can have it changed!
The image above is great, I just thought that 'describe' sounded weird when i read it to myself, so maybe something else like share or provide would be better? Maybe that's just my wedding OCD.
This one I am unsure about. I'm wary of it looking too plain, but i feel that way a lot which tends to end up with things being overly crowded and messy. What do you think? Should I add anything here?
I love our etsy seller. She has been promt and any alterations are included in the original price, I just want to be absolutely sure before i print.
So be brutaly honest! What do you think?