Post # 1
Bees, I made a big mistake. I went to David's Bridal to try on Vera Wang #VW351023. Even though I knew I couldn't afford $1,300 for a dress. I liked the illusion top a lot and I thought I would just see what it looked like. Augh! I really like the dress. My mom wanted to buy it for me (they offered her a store credit line of $3,500) but I said no. My parents are really struggling right now financially and there's no way I can "let" her take on that kind of debt.
We kinda had a fight in the middle of the store… the sales lady was pouring on the pressure and my bipolar mom was screaming and in angry tears. I basically fled the store in embarrassment. Yeah. Ouch.
Here's me in the dress: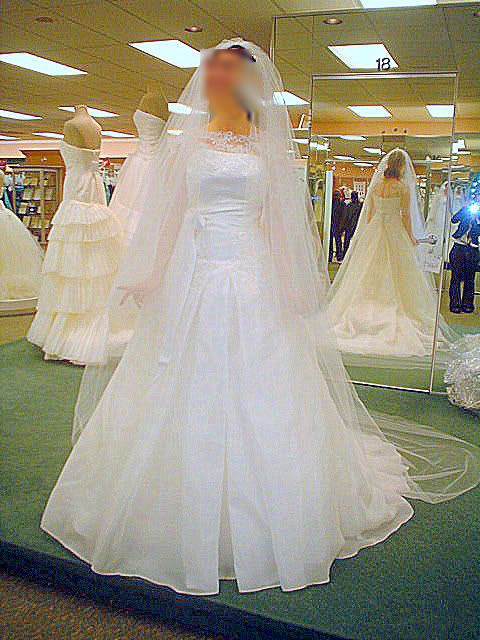 My dilemma is that I'd like to find a nice, plain, strapless white gown and have a dressmaker I'm friends with make the lace top. It actually is worn underneath the gown. The only issue is the strapless dress would need to come up quite a bit higher on me, like the Vera does in the picture. Most strapless dresses I've seen (and tried on) seem pretty low and kind of hang off the bride's boobs.
Here's a detail shot: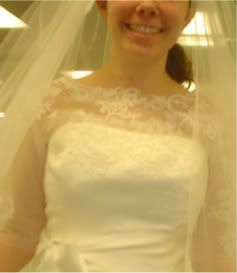 Does anybody know of any more affordable (say, $500-$700) plain strapless dresses I could have this done to? That "come up" a bit higher on the chest? Would it be a better idea to have the dressmaker make the whole thing, not just the lace under-shirt (Vera calls it a "T-shirt"?