Post # 1
Hi Bees, I came across the idea of envelopes made out of paper doilies and fell absolutely in love. What I wanted was sth. like this:
My first disappointment was that there are no 9″ square paper doilies to be found. Anywhere in the world. I've read that 10″ should also work, but I'm afraid they're going to look more like this, which I don't find as pretty anymore: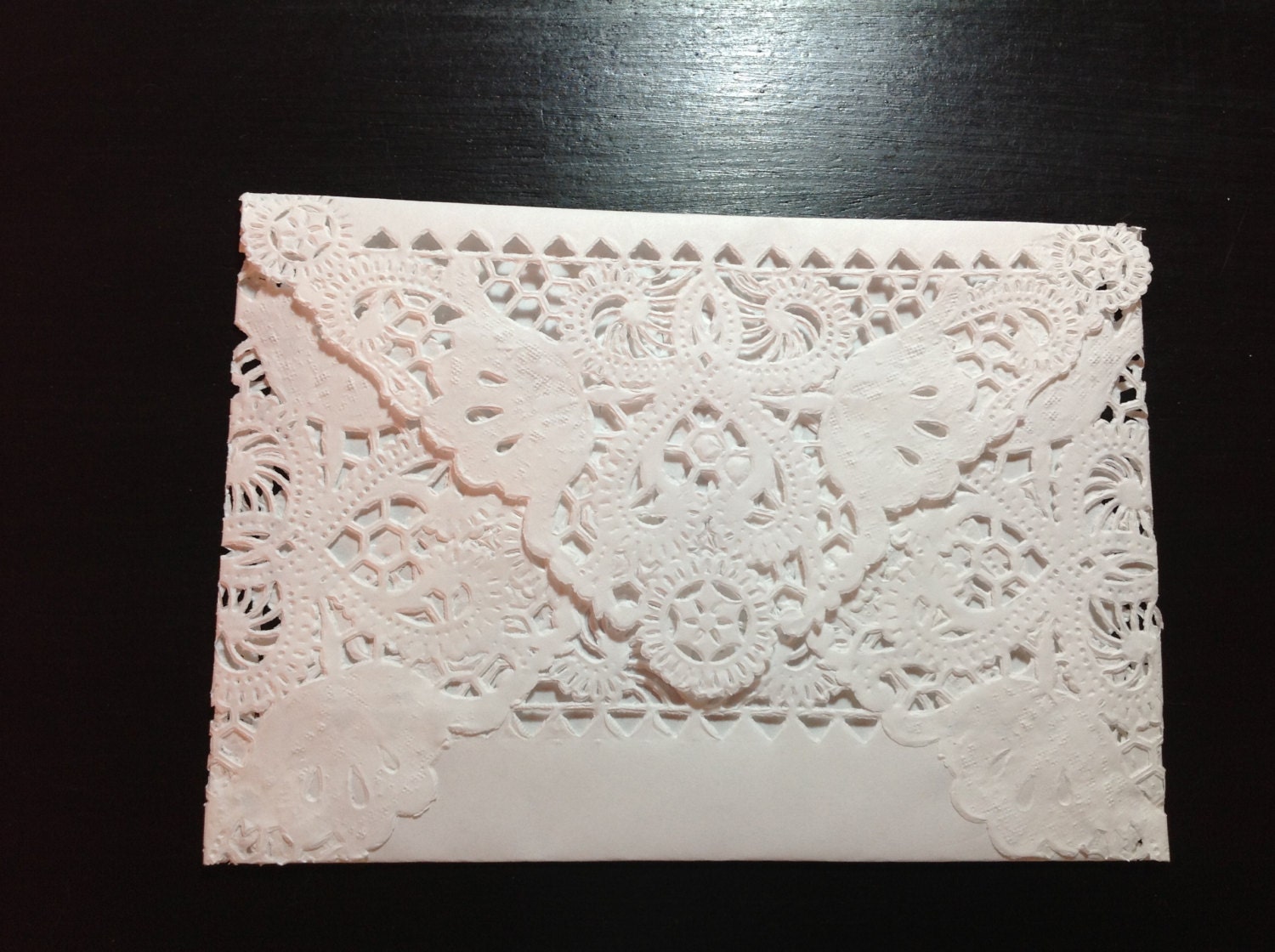 I would probably go with the 8″ to suit my format. (Probably, for you guys the 10″ would work fine as we have different standard sizes than US.)
Unfortunately, there simply are no square paper doilies found in Germany whatsoever. I bought round ones, even though I wasn't too fond of the pics I saw online. But I figured after having searched for days, I might as well give it a try.
What do you think? I've just put them together in 10 seconds, so I will be more careful in folding them up for the proper ones. Same with the ribbon. And the writing will also look different (different pen, neater handwriting, better visible so more stretched out to the left and right of the ribbon).
The invite will be blush colored (the insert right now is just a random post card) and our colors are blush / light pink and olive green.
I have to say, we don't have all this etiquette stuff here around wedding invites that I read on the bee 😉 So it definitely does not matter that it's not being done by a professional calligrapher etc. People here would have me sent to the psychiatry ward if I was to pay people to write names on an envelope for me lol.
So these aside, what do you think? I fell in love with the square ones, but is it worth the hassle to ship them from overseas and not being the right size nonetheless for sth. that people will just rip open anyways?
The round ones I bought for 0.70$ for a pack of 12 doilies. (They are 24cm in size if anyone cares.)
As most of you are lucky enough to live in a country where you can get square doilies ;), I'd like to recommend this ebay store to you (sea_starr):
http://www.ebay.de/itm/231152380210?ssPageName=STRK:MEWAX:IT&_trksid=p3984.m1423.l2649
I thought they had a good choice of paper doilies in 8″ and 10″ at reasonable prices and the shop owner was very sweet, even forwarding me her contact of a German manufacturer (all her doilies are made in GER, USA, CAN, IT etc., not made in China) (that doesn't seem to manufacture the square ones any longer though, sigh…).