Post # 1
Hello everyone. I am new to this, and by new, I mean I registered about 10 minutes ago. But rest assured, I have been scrolling around on here for a couple of weeks, particularly enjoying all of the 'ring porn.' But, I am here to share my soon to be engagement story, and proposal, to HIM!


I will start with a little about him. His name is Steven, he is 23, and him and I reside in Harrisburg, Pennsylvania together. Now here is all the cliche crap you expect to hear. He is my best friend. He does absolutely everything for me. He is in every single way perfect, we even met online. Shocker, I know. Our first date was to get ice cream to soothe my throat from my tonsolitis that was reaking havoc on it. We sat on that bench till I got sunburn, to put that into perspective, I don't burn. We went back to his place, and stayed there until I had to go to work. ( I work night shift) Since that day, we were inseperable. The one day he tried to take me home, I literally had enough time to make a sandwich and turn the TV on when I recieved a text saying, "Would it be ok if I picked you back up, made you dinner, and took you to work tonight?" He is the eptiome of my prince charming. He cooks for me, he makes tampon runs for me, and if I have trouble sleeping, since I try to sleep when the world is up and on the move, he will rub my back till I drift off. I could go on for days about how he has changed my life, and quite honestly, how I have changed his, but that isn't what this post here is about. Key points.
He hasn't had the easiest life. He dropped out of school at 16, he got his GED. He enlisted in the Army when he was 17, and was sent to basic. He was stationed in Iraq by the time he was 18. He spent 15 months there, coming out pretty lucky. Just sever back and joint pain, mild PTSD, and a mild paranoia about our doors locked, blinds closed, and driving. He left active duty sometime in 2010, enlisting in the reserves and trying to get his life together by taking college classes. Since then the Army thought it would be adorable to forget to pay him, repeatidly, and screw him out of payments for school. Leaving his credit almost unfixable and risking eviction before I met him. When I met him he had a loaf of bread, a carton of eggs, and a gallon of milk. When he left for basic, came back from basic, left for Iraq, and came back… he didn't have one person there for him. His arms also bare two memoorial tattoos for his brothers, who were intentionally hit by a druk driver, who was quoted in saying he thought they (his brothers) were dear, and wanted to hit them. His story is heartbreaking to me, and there is much more I am sure he leaves out. I strive to make everyday perfect for him. Because despite everything he has been through, he is the happiest, most optimistic person I have ever met. He tells me to blow things off and never to stress. He is the type of person that would give the shirt off his back for anyone, honestly such a beautiful soul.
We met in early July of this year, after a month or two of casual chatting on a dirtbag dating site called Plenty of Fish. We met on July 6th, and were official by July 18th. By the end of that month, my name was officially on his lease.
Fast? To everyone else? Of course! To me? Yeah, a bit. We haven't had any fights yet, but the only thing that came close was my deep thought making me panic and I stormed out and drove off, no idea where to go or what to do, or even say.I made it maybe a mile down the road, and turned around. I sat in the car, not even knowing if I was welcome back in, and parked and just, cried. Not even a few minutes later I got a tap at my window, and told me how happy he was with me, and how I have changed his life. He said all of his friends think we are perfect together, and honestly, we are. It was so easiy addressed that he went back in, changed his clothes, and we ran our errands for that day without a problem.
NOW TO THE POINT. We have talked about marriage, often. Origianlly it came up when I was trying to enlist in the military myself. The only way we could be stationed together is if we tied the knot. Due to a birth defect that was surgically corrected, I was disqualified, despite my almost high enough for nuclear research ASVAB score. Still comes up, as he introduces me as is "Wife to be." Are we ready for this? There is no way to know for sure. There is no Cosmo magazine quiz for this one. Follow the heart, right? Yeah well, that is what I am doing.
It all started when I was trying to decided what to get him for Christmas. I went out for his birthday. Xbox game, a tattoo gift card, a half ounce of bud, (judge if you want, no shame) a sweartshift of his favorite band, 2 bottle of Captain Morgan, Gatorades and Monsters, goofy boxers from American Eagle along with a tshirt, goofy dollar store toys, and a "Zombie Survival Kit" lunchbox, since if I am home, I pack his lunch for him everyday. Also, a photo album, to hold all the notes I write for his lunches, which varies between jokes and love letts, to pictures of man eating vaginas. I also painted him a picture of Jack and Sally, since Tim Burton is one of his heroes. As you can see, I used up all of my good ideas in one freaking holiday. I was completely at a loss when trying to come up with another idea he would LOVE.
I asked him regulary what he wanted, a million times I swear. The asnwer would remain the same each time…
"I don't need or want anything, I have you, and that is all I will ever need."
Made me feel like as asshole everytime I asked for a perfume or a pair of boots. But then it hit me like a ton of bricks. I would propose to him. Giving him EXACTLY what he told me he wants. I am giving him me, me forever and ever. The minute that glorious idea popped into my head, we made a trip to the craft store. He wandered away to sniff candles while I tried to piece this together in my head. He loves zombies, pirates, video games, and Tim Burton. All a relatively dark, urban, spooky vibe in my mind. Thats when it all started to piece together.
Chains, a treasure chest, metal plating, bricks, and clues to tell him where the "hidden treasure" is, making it a game. A very, 'Steven-esqe' styled proposal. Also, please take a look at my adorable cat we just rescued, Purca. She is doing a damn fine job of making sure that bag goes absolutely nowhere. I wasn't happy with just painted bricks, oh no. I added layers of nail polish and salt to each brick, giving it dimension and texture. Just plain silver paint for metal? Oh gosh no, not good enough. I broke pens, and poked holes into the wood to make it look like it was bolted on. I painted over it with clear nail polish, and added salt and bronze nail polish to make it look rusted to match the chain. Then it dawned on me that I couldn't have two rings banging around in there. It would be obvious for one thing, and probably not the best for them. Another trip to the craft store to pic up kids clay, Model Magic. I shoved that in there, and stuffed two plastic ring sizers to mold the place for our rings.
Getting his ring size was easier than one would think. Blue Nile offers free ring sizers, and they come in about a week or two. You can rush ship them for 15 dollars, but that wasn't needed in my case. I ordered it, and told him well in advance about it, so it wouldn't seem suspicious. I told him I wanted to get my mom a ring for Christmas, and wanted a close estimat of her size, and his fingers seemed close. So I as causally as I possibly could, tried the plastic sizers on each finger, left and right hands. Pretending to get some idea, and pretending to recall what fingers she likes to wear her rings on. He is handsome a could be, but I don't think he put two and twp together, even after I accidentally left the web page of the ring I ordered up one day. I could kick myself for that.
But as I was saying, I shoved the plastic rings in the clay, and let it set to it's fun foamy consistancy. I then painted it with black shimmer nail polish, and then silver, gold, bronze, and multi-colored glittered nail polish. Giving it the appearance of treaure in a chest. I took sand patterned scrapbook paper, cut it to fit the lid, and used letter stickers to scribble out my proposal. That was a pain, not having the right amount of letters that I needed, some are pieced together from other letters. It works though.
I ordered my engagement ring from Blue Nile. I loved their rings for ever. Let's face it, I was searching for my dream ring and planning my wedding since I was like, eh, let's say 15. I always knew I wanted one. Well, this was my chance. I applied for the store credit, and found a ring I loved and that fit my budget. I like small and dainty, but at the same time, very detailed. Took some deciding, but I found it. My setting is milgrain marquise and dot with diamonds in 14k white gold with a ideal-cut, J-color, VS1-clarity, round .41 ct diamond. Their customer service is fantastic. I love their live chat option. I hate calling and talking on the phone, and the live chat was fantastic, and they answered all my silly 'first diamond buyer' questions. The arrival presentation in its wooden laquered box was fanstastic. It also comes with an apprasial and all that fun jazz. I also love that it comes in an unmarked box, with the return address saying "Shipping Compliance Officer." That came in handy when him and I both ended up picking it up from our rental office while we were there to sign our new lease. He kept asking what was in the box, and the only answer he would get is, "My love for you!" But most importantly with my Blue Nile experience, I absolutely love my ring!
His ring will not get here until the end of the month, which blows my mind because it is a simple band. But that keeps me from popping the question too early, so it is almost a good thing. His ring is far from anything special. I am giving him the option of wearing an engagement ring, or keeping this somewhat traditional and him not wearing anything until our wedding day. By doing that, I only purchased a very inexpensive band. That way, he has it for presentation. Also, if he doesn't like it, I won't be out a grand, and my feelings won't be bruised. Him and I can then eventually go and pick him out a proper ring that he loves just as much as I love mine. I only have a stock photo of his ring, so I apologize.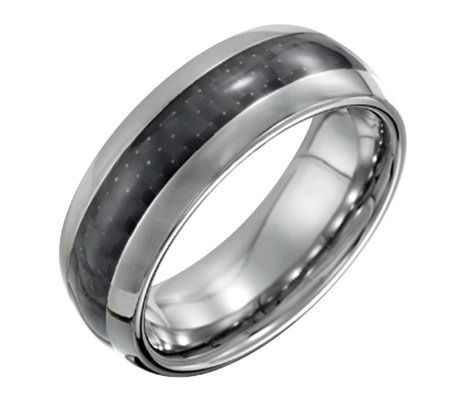 Once those gems are shoved in my personalized treasure chest, I had to create clues that let him to my booty. I crafted those out of the same craft paper, sticker letters, and a sharpie. They are not near as exciting as the box itself, but it fits the theme. They will be hidden anywhere from under the litter box where the "kitties burry their treasure" to by this collection of strange stuffed animals with pirate hats, and eventually to our baby aquatic turtle, which is a "spiked sea monster" according to my clues, all keeping the theme. I also saved one piece to write a heartfelt love letter before the presentation of the box. Ignore the one metal plate that is unfinished, I keep forgetting about it.
Last, but simply not least, I hidden the first clue inside the original shipping box of my ring. I wrapped it up, put a label, and a bow on it, just like the rest of his presents this year, which include a Playstation 3 with lots of games and accessories and a new TV, and more boring clothes, just to throw him off. It will be opened last, saving the absolute best, for last. Take note of the crazy looking cat wrapping paper. I picked it because like I stated, we just rescued two young cats, and they are our crazy little love nuggets. I couldn't resist.
That ladies, is my proposal. Yes, it is untraditional. We aren't traditional to begin with. Yes, we are young, with me being 20, and him 23. Yes, it is pretty early. I plan on a long engagement, if that is what he is ok with. I obviosuly have my concerns, what our family will think. That society thinks I am impatient and forcing marraige, and so on. My main concern is that he will feel I stole that opportunity to surprise me. I have put an enourmous amount of effort and time into this, so hopefully it so so special to him that he will not feel that way.
I WANT ALL FEEDBACK LADIES, GOOD OR BAD! Thanks for reading!