Post # 1
Well, most of the family. For my parents I got them these Willow Tree figures. They ADORE Willow Tree and will love these. There is a Grandmother one and a Grandfather one.
For my two sisters (one of which already knows) I am going to get them really cute onesies. For one, who is a photographer, I am going to make (or buy if I lose patience) this one:
For the other I am thinking about getting a onesie that says something about her becoming an aunt… She isn't really into anthing outside of her boyfriend and her new place so I am at a loss with her. But, to be fair, she did know first so… lol.
For my grandparents in MI, when found out about our offer being accepted they day we landed there for a trip with them and had to spend the rest of the day running around this REALLY tiny town trying to get checks sent off and paperwork faxed.. it was a headache. So since there was no way they were going to be able to come all the way down to TX to see the new house (My grandfather is at the point that traveling is out of the question) we promised them we would send pictures of it. WE uploaded pictures of when we first moved in of it before we did all our awesome updates and making it "ours" but haven't uploaded any since. So, We are going to get the house really clean and looking awesome, and give them a video tour. All ending in what we call the "guest room" and surprise them with the crib in it now making it the "BABY's room!
For my other grandparents… I don't know.. Still figuring that out.
For his parents he saw this onesie and can't gt enough of it. He wants to give that to his mom.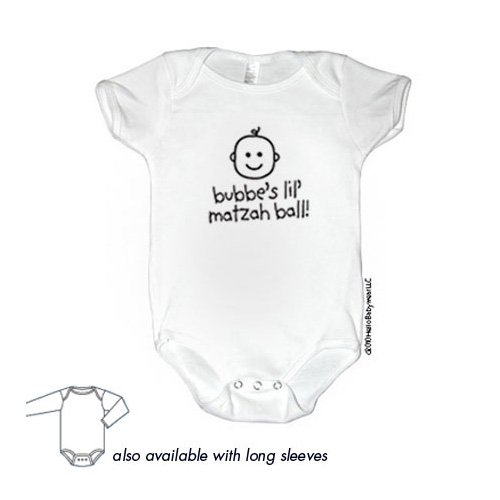 Still no idea what to do for his dad and brother.
They are all obsessed with our dogs and call the their "Grandpuppies" so I think we should take a picture of them with a sign that says "WE are going to be Big Sisters!" But I love the idea of giving gifts rather than just saying "Hey! We're pregnant!". To me it makes it more fun and personal. And I would feel weird giving my family gifts and not his. I also have to think about the fact that his family lives in AZ and so if I give them things like onesies, our kid will never get to wear it! Certainly not before they outgrow it since it is impossible to time their size and the clothes they will fit into and when his parents will visit. lol. I dunno… still working that one out.
Any ideas on that matter would be greatly appreciated. lol
What do you guys think though? Cute ideas, lame? or just weird? (Promise, it is REALLY tough to hurt my feelings.)