Post # 1
Wedding: June 2014 - British Columbia
Poll: Would you have more than one dress if you were told that your extra dress(es) will be paid for?
It appears to be the cultural norm for a bride to be changing into more than one dress. In a lot of similar cultural weddings I've been to, the bride wears 3 dresses: a cheongsam, a ceremony dress and a reception gown.
I'm trying to have a low-key, fun, not-too-formal event for a wedding though I'm sure it could be formal and still be fun! Long story short, my dress is tea-length with a 1950s silhouette, which works for both an outdoor church ceremony & reception.
My mother, on the other hand, is excited about the wedding (more than I) and was insisting on finding me another wedding dress. (Something that is 'elaborate' or luxurious in her view)
She started the whole extra dress thing by asking me to send my measurements, so that she could buy Chinese silk from Singapore. My grand-aunt would then tailor a cheongsam.
(Cheongsam = traditional Chinese column/sheath dress, with a high slit on the bottom to allow movement)
Laughing, I told my mother flatly that I would look pregnant with a "luxurious" traditional Cheongsam, with my curvy body shape! (Here's a thread I created for curve-friendly Cheongsam ideas) Her exact words in Chinese was she wants the qi pao to be 高贵!
This was the Chinese brocade silk dress pattern I found via BurdaStyle that I really like for its simplicity AND that cute bow! Of course, my mother said, "It's not bridal enough! It looks like something you'd wear at the office." (I'm really hating the word "bridal"; no offense.)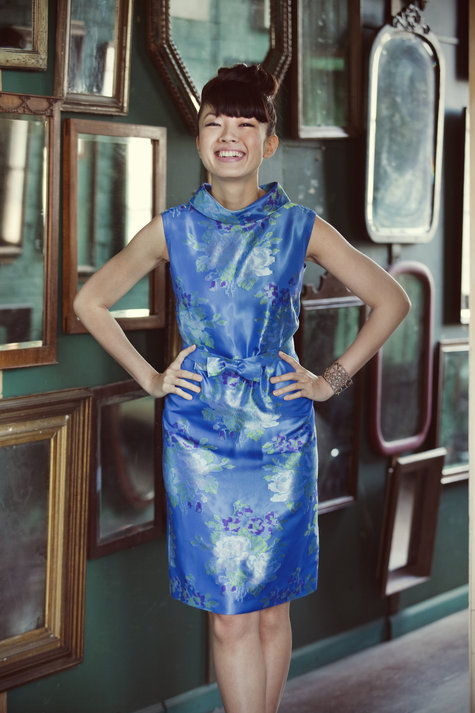 I guess I fear to hear the judgement my Future In-Laws would cast on me by letting my mother spoil me? Does that make sense?