Post # 1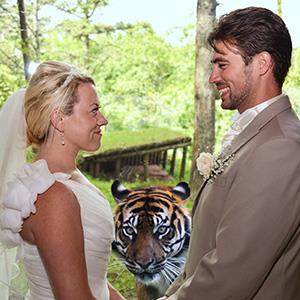 This isn't photoshop!
"Andrew and Karma Madgwicks were staring into each other's eyes for a wedding photo when someone else decided to butt in. Banda the Sumatran tiger apparently wanted to see what all the fuss was as the couple posed for their photographer before their reception at England's Paignton Zoo.
"All of a sudden, it came bounding over and right into the shot. It posed for a split second and then walked away," explained photographer Vicki Boulter.
Although Banda is (luckily) on the other side of the glass, the photo makes it look like she's cozying right up to the happy couple."
http://living.msn.com/family-parenting/pets/off-the-leash-blog-post?post=6a95db4a-d010-4cb7-9e3c-fbb866a06cd2